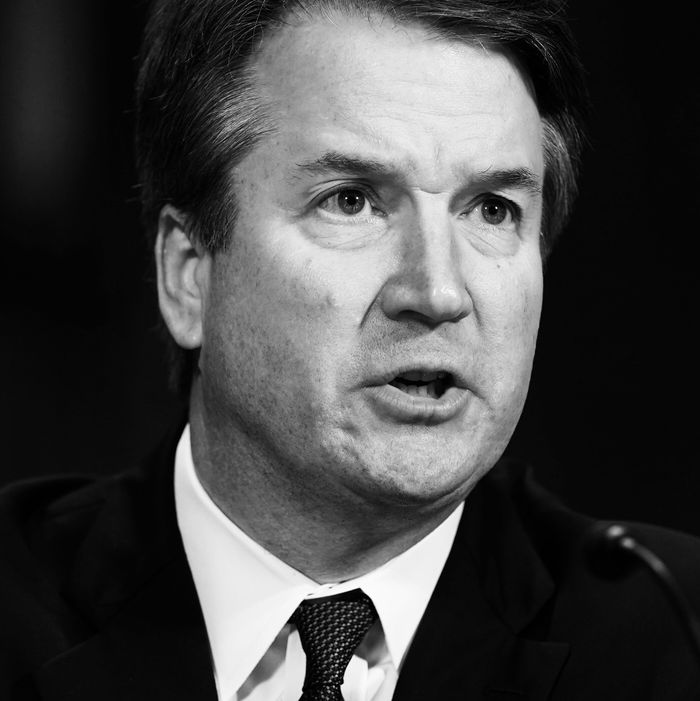 Brett Kavanaugh.
Photo: Bloomberg/Bloomberg via Getty Images
Brett Kavanaugh's confirmation to the Supreme Court marks the end of a deeply divided battle over fairness, credibility, definitions of assault, and a woman's right to decisions about her own body.
As protests erupted outside the U.S. Capitol on Saturday afternoon, 50 senators confirmed Kavanaugh to the court, ignoring the incensed women whose screams could be heard inside the Senate gallery. The final vote was 50 to 48. Kavanaugh's appointment is for life.
On Friday, it was pretty much a foregone conclusion that Kavanaugh would be confirmed after Susan Collins delivered a speech in which she announced that she'd vote yes. Still, it was shocking to watch an accused sexual assaulter get confirmed to the country's highest judicial authority, in real time.
Kavanaugh has been accused of sexually assaulting three women.
Christine Blasey Ford went public with her claim in mid-September, after she told the Washington Post that in the summer of 1982, when she was 15, Kavanaugh pulled her into a bedroom, held her down, and attempted to take off her clothes her during a house party in Maryland. She also claimed that Kavanaugh's high school friend, conservative writer Mark Judge, was in the room at the time — laughing and goading Kavanaugh on, before eventually jumping on top of them. She said she hid in a bathroom after the assault, and that she didn't tell anyone the specifics of the assault until a 2012 couple's therapy session with her husband.
Kavanaugh denied Ford's allegations, and gave a Fox News interview in which he painted himself as a virtuous virgin who was "focused on academics and athletics, going to church at Little Flower" and "friendship" during high school. Soon after, his former classmates began to come forward with stories of the judge's heavy drinking. On September 23, Kavanaugh's former Yale classmate Deborah Ramirez accused Kavanaugh of exposing himself to her, putting his penis in her face, and causing her to touch it without her consent during a drunken dorm party. On September 26, attorney Michael Avenatti shared a sworn declaration from his client Julie Swetnick, who says Kavanaugh was present when she was drugged and gang-raped at a party and that she saw him harass women during "Beach Week."
After urging from Democratic senators, the Senate Judiciary Committee invited Ford to testify about her allegations against Kavanaugh — just as Anita Hill had been invited to testify about her sexual-harassment allegations against now-Justice Clarence Thomas in 1991. Ford initially requested that a FBI investigation be conducted into her allegations before she testify (as had been done in the instance of Hill). Her request was denied. She nonetheless appeared in front of the committee — and on the worldwide stage — on September 27 to deliver her heartbreaking, powerful testimony.
Drawing on her expertise as a scientist, she spoke of the effects assault had on her life — of the PTSD and anxiety she endured as a consequence (and the "second front door" she had installed in her home so that she could escape in an emergency). She responded to questions politely, and went out of her way to accommodate the Republicans on the committee. In contrast, Kavanaugh's testimony was emotional, belligerent, and angry. He cried as he spoke of the impact the allegations have had on him and his family, yelled at senators as they attempted to question him, and attacked the Democrats on the committee for trying to get revenge on behalf of the Clintons.
Yet, the committee voted to send Kavanaugh's nomination to the full Senate, and a compromise was reached: The FBI would investigate the allegations before the final vote. However, the investigation has been highly scrutinized, as people who may have crucial information (including Christine Blasey Ford herself) were not questioned. The investigation nevertheless wrapped up days later, and on Friday, the Senate voted 51-49 to close debate on the Kavanaugh issue, thereby all but cinching his confirmation to the court.