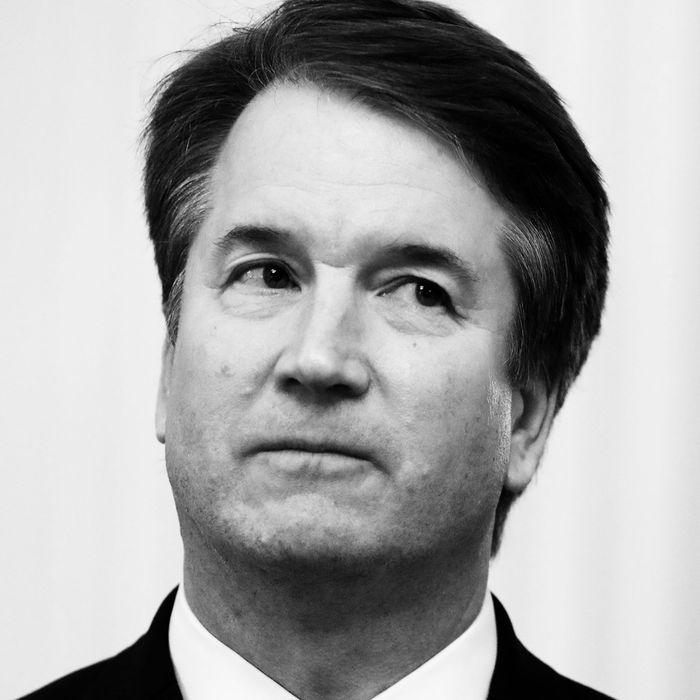 Brett Kavanaugh.
Photo: Chip Somodevilla/Getty Images
When you type BrettKavanaugh.com into your browser, the first thing that comes up is not a photo of the accused sexual assaulter who will rule on the Supreme Court for a lifetime appointment. The image that fills your screen reads, "We Believe Survivors" in large text, set against a black-and-white photo of the Supreme Court.
According to The Hill, the site was launched by the nonpartisan advocacy group Fix the Court the day after Kavanaugh was confirmed as a Supreme Court justice. "The start of Brett Kavanaugh's tenure on the Supreme Court may look like a victory for one interest group or another," the site's home page reads. "But, more importantly, it is putting a national focus on the issue of sexual assault — and how we as a country can and should do more to prevent it and to support those who have experienced it. This past month, thousands of survivors have come forward to tell their stories. We applaud your bravery. We believe you." Below, it lists several groups as resources for survivors, including the National Sexual Violence Resource Center, End Rape on Campus, and RAINN.
Gabe Roth, executive director of Fix the Court, said in a statement that he bought the BrettKavanaugh domain — as well as the .org and .net versions — three years ago, in case they would "be useful in any forthcoming Supreme Court confirmation battles."
"I believe Dr. Ford," he said. "I believe Prof. Hill. I also believe that asking for forgiveness is a sign of maturity and strength, not weakness."
Kavanaugh has repeatedly denied the allegations of sexual assault brought forth by Ford — and two other women, Deborah Ramirez and Julie Swetnick.
On Twitter, users were quick to commend the site launch.
But BrettKavanaugh.com is not the only site to troll the justice; for a very good takedown of Kavanaugh's bumbling "I like beer" statements at the Senate hearing, go to www.brettkavanaugh.beer. ("voteforme and i"ll fill the courtroom with beer like our founding fatherins INTENTDED.")