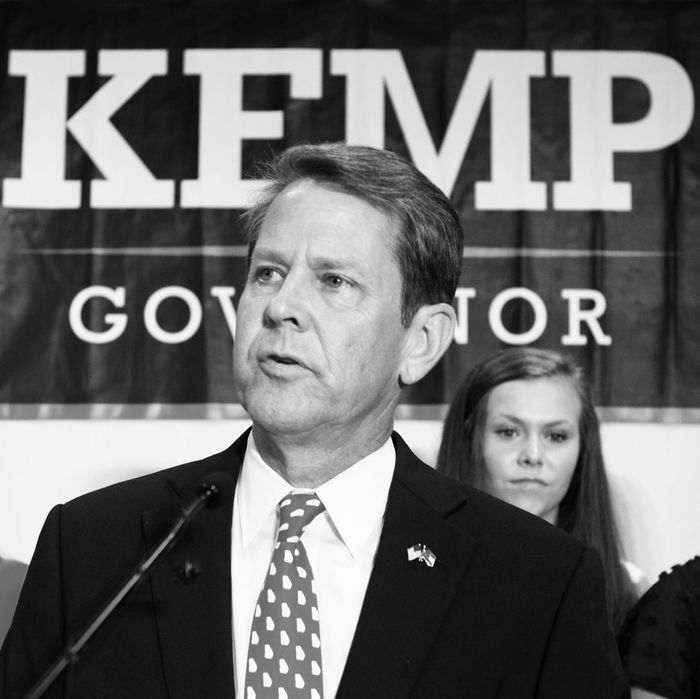 Brian Kemp.
Photo: Jessica McGowan/Getty Images
Tonight, once again, an exceedingly competent woman on the brink of making history will square off in a debate against a man who proudly, giddily describes himself as "politically incorrect."
Stacey Abrams, Georgia's former House minority leader and Democratic gubernatorial candidate (who, if she wins, will be the first black female governor in the history of the United States) will go face-to-face Tuesday night with Republican candidate Brian Kemp, Georgia's secretary of state who has branded himself as a "politically incorrect conservative."
So committed is he to this unsavory designation that he put out a series of tongue-in-cheek campaign ads, ostensibly aimed at getting liberals and moderates to clutch their ethically sourced soy pearls. In one, titled "So Conservative," Kemp says, "I got a big truck just in case I need to round up criminal illegals and take 'em home myself." In another, he polishes a shotgun while sitting next to a young man who is interested in one of his daughters. In a third — creatively titled "Offends" — he stares defiantly into the camera and proclaims, "I support President Trump, our troops, and iron-clad borders, and I stand for our national anthem. If any of this offends you, then I'm not your guy."
Though the ads may seem to be self-aware of their own antagonistic nature, Kemp is dead serious about all of this; his "politically incorrect" positions include vowing to "sign the toughest abortion laws in the country," not supporting a woman's right to an abortion even in cases of rape or incest, backing anti-LGBTQ legislation, and in March, he proposed a "track and deport" plan for illegal immigration.
But most alarming is Kemp's long record of voter suppression, which has disproportionately targeted Georgia's black population: Since 2012, as secretary of state, he has cancelled over 1.4 million voter registrations — over 670,000 of which were cancelled last year. In an August op-ed, the New York Times branded Kemp an "enemy of democracy," arguing that he has used suppressive methods to "fortify the Republicans' crumbling bulwark" for nearly a decade now. Earlier this month, Rolling Stone warned, "Stacey Abrams … is competing against a rival who is also the referee."
And according to a report from the Associated Press, Kemp's office currently has 53,000 voter registrations places on hold under the state's "exact match" policy, which he helped push through the legislature in 2017. Under the exact match rules, if the information on a person's voter registration is not the same as in the Georgia Department of Driver Services or the Social Security Administration's databases, their registration will be put on hold. This discrepancy can be as small as a missed hyphen. Although Georgia's population is only 32 percent black, of the 53,000 voter registrations placed on hold, 70 percent belong to African Americans.
"As he has done for years, Brian Kemp is maliciously wielding the power of his office to suppress the vote for political gain and silence the voices of thousands of eligible voters — the majority of them [whom are] people of color," Abrams spokeswoman Abigail Collazo said in a statement to CNN.
When asked about these holds, Kemp's campaign spokesperson Ryan Mahoney denied the candidate was trying to manipulate the electorate, and said that he "is fighting to protect the integrity of our elections and ensure that only legal citizens cast a ballot." Earlier today, though, Rolling Stone, obtained audio of Kemp telling donors that he's concerned about the possibility that all of the voters recruited by Abrams' team will exercises their right to vote.
With his proudly inappropriate ads and blatantly racist policies, Kemp is just the latest in a long, exhausting line of conservative politicians to publicly relish in his "political incorrectness," framing his bigoted comments and policies as brave, irreverent acts of subversion instead of what they really are — the same tired, bigoted rhetoric and oppressive tactics that have dominated the political landscape for centuries and have ensured, for example, that in 2018, our country has yet to elect a black female governor.