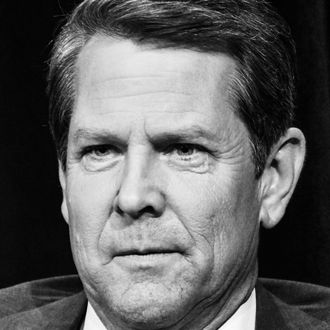 Photo: John Amis/AP/REX/Shutterstock
Jennifer Miller remembers lying on the massage table, terrified. Herve Baptiste, a massage therapist then licensed in the state of Georgia, grabbed her breasts, then her nipples. "He physically hurt me," she said, speaking to The Cut in an interview on Tuesday afternoon. Fearing he'd touch her elsewhere, Miller rolled over on her stomach and used her hands to cover between her legs in an attempt to physically block him. Baptiste then massaged her legs, moving upward until his hands were touching hers. "I froze. He was literally on top of me, his shirt — I could feel it across my face as he ran his hands down my body," Miller said. "I said something to make him stop, and he laughed and said, 'Oh, you don't like that?'"
After the assault, Miller, a professional in her 40s, returned home to her husband, visibly shaken, and told him what happened. They called the police. "It was a really difficult decision to decide if I was going to press charges, because the police made it very clear that my address would be public record, and [Baptiste] could find me," Miller said. "That was upsetting. But we both decided that whatever happened to me, we didn't want it to happen to anyone else. So we pressed charges." Miller said she was sore for days afterward and had signs of bruising. She also went to therapy, and for a while, wore "layers of clothing, tight clothing, to protect myself from feeling touched from anyone or anything."
The police report — which The Cut has obtained a copy of — was filed on March 13, 2010, the same date as the assault. But even with formal charges against Baptiste, his massage license was not suspended or revoked. Later that year, Miller said she called Georgia Secretary of State Brian Kemp's office, which oversees the Professional Licensing Boards Division, an agency providing administrative and clerical support to 41 licensing boards in the state — including the licensing of massage therapists. "I called the Secretary of State office, the licensure board, so [Baptiste] wouldn't hurt other people," said Miller. "They said they couldn't do anything unless he was convicted or somebody else complained, and that nobody else had complained. So, you know, I felt helpless."
Miller hoped that her complaint would result in Baptiste losing his license to practice, but it was never suspended or revoked. Even after he was convicted of assaulting Miller in December 2012 and served jail time, his license remained listed — and still remains listed — as "lapsed" (which it did, in October 2010) on the Secretary of State's website, with Kemp's name in bold letters on the top of the page. Brandon Knox, another Georgia massage therapist convicted of assault, is similarly listed on the Secretary of State website as having a lapsed license.
Miller's is not the only case to be seemingly disregarded by Kemp's office. As the Atlanta Journal-Constitution reported in May in an article titled When Massage Therapists Cross the Line, the State Board Rarely Acts, "Twenty-five out of 26 sexual misconduct complaints lodged with the state over the past three years resulted in zero public disciplinary action — no license revocations, no license suspensions, no therapists placed on probation, no reprimands."
After assaulting Miller in 2010 but before his trial in 2012, Baptiste moved to Maryland, where he similarly assaulted three other women while working as a licensed massage therapist in the state. When a complaint was filed by one of the victims, however, the Maryland State Board of Chiropractic and Massage Therapy Examiners investigated, ultimately revoking Baptiste's license after discovering that he'd lied about his past record, falsely stating that he'd never been arrested and that he left his place of employment in Georgia due to a "distance issue." (He'd been fired.)
"I felt that by me putting myself out there and filing the police report, being scared all these years that [Baptiste] might come find me, that it was all for naught," said Miller. "I filed charges, and it didn't help prevent him [from assaulting other women]."
The unaddressed assault charges have been used against Kemp as he's campaigned for governor of Georgia, first in the Republican primary, and again in the general election, where he faces Democratic candidate Stacey Abrams in a highly contested race. Democrats have released an attack ad referencing Kemp's inaction and launching a website, georgiamassagescandal.com, which was paid for by the Democratic Party of Georgia. Kemp, who has come under fire for accepting campaign donations from Massage Envy owner Patrick Greco (Knox had been an employee at Massage Envy at the time he pleaded guilty), has responded to the criticism by skirting responsibility. As his campaign spokesman, Ryan Mahoney, said in July, "The Attorney General's office and board members appointed by Governor Nathan Deal are charged with holding licensees accountable — not Brian Kemp." Mahoney called the attacks "a botched political stunt." A call to Secretary Kemp's office for comment was not immediately answered.
The reality is likely somewhere in the middle. "From the board to [Kemp], there's not a lot of layers," said Charles S. Bullock III, a political science professor at the University of Georgia with expertise in Southern and legislative politics. "But it's hard to imagine he'd come in and say, 'Give me a rundown on what's happening on all the various licensing boards.'" Bullock added, "I would not think he would be aware of it at all until somebody probably did opposition research, came across this and said, 'Aha, this happened on his watch.' Which, it did."
Miller isn't having Kemp's excuses. "I was physically hurt and I was vulnerable and the Secretary of State, the licensure board, did not support me and did not protect me and still has not," she said. "I think it's sad that Maryland, their board has a written response to complaints that the public can see … it's as if the [Georgia] licensure board completely ignored me, and Kemp's office sets policy. His policy is not protecting Georgians."
Miller said she's speaking out now because, "I wasn't protected. When I called down to Kemp's office they didn't listen to me and they didn't hear me." When she watched Dr. Christine Blasey Ford testify about her own assault during Brett Kavanaugh's confirmation hearing, "I was hoping she would be believed and heard. So it took me back to, Was I heard? I was terrified going into the courtroom that they wouldn't believe me. As a victim myself I know how terrifying it is to put yourself out there and tell what has been done to you. There's the shame of, What did I do to deserve this? and the self doubt of, What could I have done?" Miller said she called the licensure board on Monday to ask about the current procedures in place for victims coming forward. "If someone files a police report, they are serious. Suspend the license."
Update 9:58am: Secretary Kemp's office issued the following statement Wednesday morning: "This article is completely irresponsible because it does not look at Georgia law which is clear that Brian Kemp or any other secretary of state has zero authority over reprimanding licenses or revoking licenses. It's a shame the media cannot be bothered to read state law in pursuit of a sensational headline."