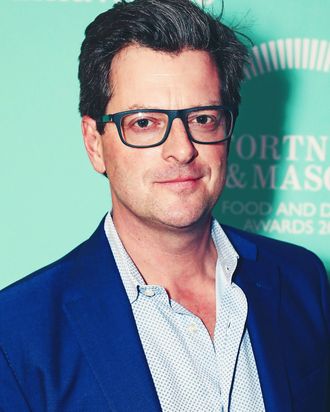 William Sitwell.
Photo: David M Benett/Getty Images
Freelance journalist Selene Nelson was not prepared for the response to her seemingly innocuous email pitch to Waitrose Food magazine, a British chain supermarket publication, on vegan, "healthy, eco-friendly meals."
"Thanks for this," Waitrose's editor, William Sitwell, wrote in an email reply ten minutes later, dated October 23. "How about a series on killing vegans, one by one. Ways to trap them? How to interrogate them properly? Expose their hypocrisy? Force-feed them meat?"
Today, Sitwell apologized "to any food- and life-loving vegan" for his "ill-judged joke," and announced he will be stepping down from his editor role. In an Instagram post, he shared a photo of a veggie-centric issue of the magazine, in which he refused to advertise meat products.
Sitwell's email drew fury from the vegan community, with the Humane Society calling for his resignation. "It will look very much like their newly launched and much trumpeted vegan range is little more than blatant opportunism, exploiting people they have no respect for," a spokesperson told Metro U.K.
But some others are defending Sitwell; Peter Oborne, an editor of the Spectator, wrote on Twitter that it is "a dark day for free expression" and that Sitwell had been "driven from his job by relentless Twitter trolls." (He also lamented Ian Buruma's departure from the New York Review of Books.)
"I have great sympathy for William Sitwell," Giles Coren, a restaurant critic for the Times, said. "It was a stupid email but should not be a career-ender. Vegans are not a race or a gender or a sexual orientation or a differently-abled group. They just choose to eat plants."