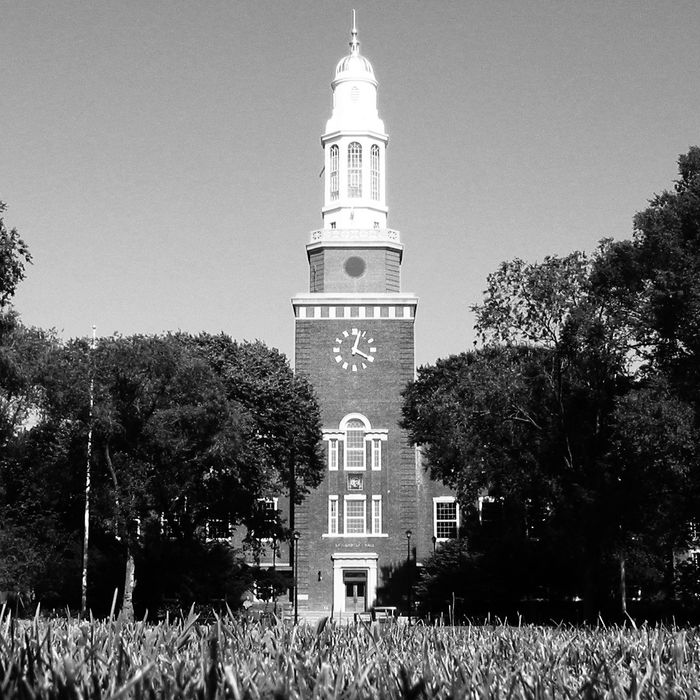 Brooklyn College.
Photo: todea/Getty Images/iStockphoto
Students at Brooklyn College are calling for the immediate dismissal of Mitchell Langbert, an associate professor of business at Brooklyn College who wrote a post on his personal blog arguing that committing sexual assault is a male rite of passage.
"If someone did not commit sexual assault in high school, then he is not a member of the male sex," Langbert wrote before condemning the Democratic Party — or, the "tutu-wearing pansies, totalitarian sissies" — for conspiring to keep a man from power, just because he committed "supposed spin-the-bottle crimes."
Per Mitchell's bio on the blog, the associate professor typically writes about current events, politics, higher education, the economy, and "whatever else interests [him]." He also "believes in free markets." On September 27, inspired by Jonathan Swift's 1729 essay A Modest Proposal, Mitchell decided to publish a "satirical" blog "in light of the defamation that Judge Kavanaugh has suffered at the hands of his political opponents."
"The Kavanaugh hearing is a travesty, and if the Republicans are going to allow the sissy party to use this travesty to stop conservatism, then it is time found a new political party," he continued. "In the future, having committed sexual assault in high school ought to be a prerequisite for all appointments, judicial and political. Those who did not play spin-the-bottle when they were 15 should not be in public life."
Students at the college are saying the blog post is completely unacceptable. On Wednesday morning, Sydoni Ellwood, a 28-year-old senior majoring in political science, vocalized her condemnation of Langbert's blog post in an email to the provost and the chair of the Department of Business Management, in which she argued that the professor is "rationalizing sexual predatory behavior."
"Brooklyn College students, myself included, are calling for his immediate dismissal because his presence on campus, in classrooms is threatening in light of this information," Ellwood told the Cut. "Public institutions are supposed to be safe spaces; how can any student who identifies as female, gay, or of color feel safe in a classroom where he's the lecturer?"
In a statement to The Gothamist, Brooklyn College provost and senior vice- president for academic affairs Anne Lopes said that it had come to the college's attention that a faculty member "blogged a gender-biased and homophobic post that advocates sexual assault last week," which she says she personally views as "offensive" and "obviously abhorrent." However, she says that Mitchell has a right to free speech under the First Amendment.
In a comment to the New York Post, Mitchell asserted that "it's natural for males to be sexually exploratory," and that "as long as there is no coercion or violence it's not a crime."
He then attacked the left for using "defamation and lies about manufactured events," and his employer for espousing socialist values.
"Students are indoctrinated in socialism in this school and they're trained to demand that anyone who disagrees with them should be fired," he continued. "It's a travesty — and there are times you have to fight back against the totalitarian bigotry that Brooklyn College represents."
But a number of students are saying they refuse to stop fighting back against Mitchell, and want him dismissed immediately. On Thursday, students and faculty are planning to protest Langbert from 1–2 p.m. on the campus's East Quad. Ellwood told the Cut that the student government president is also drafting a petition, which will soon be circulated for people to sign. She also said her email was forwarded to CUNY's Title IX coordinator, Brooklyn College's Communications Department, and the VP of student affairs.
"His blog post can incite violent behavior, which should never be tolerated on a college campus," Ellwood said. "We are here to discuss and exchange new ideas as well as to critique past theories, not be relegated to hateful speech."