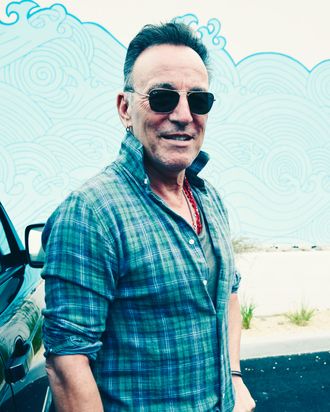 The real Bruce Springsteen.
Photo: Kevin Mazur/Getty Images for iStar
You may have noticed that the Cut has unyielding commitments to both being horny for Bruce Springsteen and appreciating scams. Unfortunately, the space where the two meet is not nearly as fun.
CBS Chicago reports that a woman going by "Mary" ([Bruce Springsteen voice] you ain't a beauty but, hey, you're alright) was contacted by someone claiming to be the Boss himself after she commented on a Springsteen Facebook fan page.
"I'm like whoa Bruce Springsteen, I'm good how are you," she explained.
Mary said that after the two exchanged flirtatious texts and pictures for about a year, the person at the other end started requesting money in the form of iTunes gift cards because he said that he (Bruce Springsteen) was getting a divorce from his wife (Patti Scialfa) and that she had tied up his bank accounts. So Mary sent about $600 in that format before the requests escalated:
But then, "Fake Bruce" texted her a picture of his stash of gold, saying he needed money to ship it home from Dubai. He said it was a huge amount of gold, worth millions.
She ended up giving $11,500 more to the impersonator before realizing that perhaps Bruce Springsteen was not so down on his luck that he needed to shake down strangers for iTunes gift cards and cash so he could ship secret gold home from Dubai because Patti took all his money.
All in all, a cautionary tale! I just hope this lady gets Springsteen on Broadway tickets out of this.