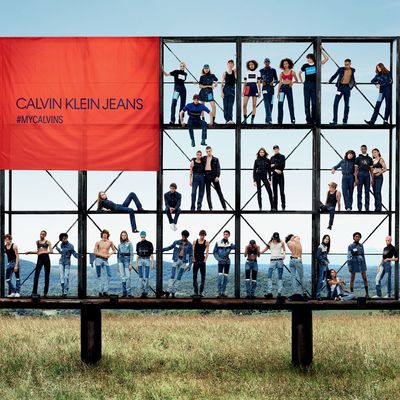 Photo: CALVIN KLEIN JEANS Fall 2018 campaign, Willy Vanderperre
Calvin Klein's hoping that jeans will be the next thing you'll order on Amazon Prime. The brand is expanding its offerings on Amazon today as part of its partnership with Amazon fashion. And on Friday, it will release a denim trucker jacket created for A$AP Rocky.
If you live in New York, Calvin Klein is celebrating this partnership with an immersive event. They're camping out at the Flatiron Plaza in New York from 5 p.m. to 10 p.m. on Friday, and 11 a.m. to 9 p.m. on Saturday and Sunday. It's kind of like a Calvin Klein carnival. Visitors can play games for prizes from Amazon or Calvin Klein and re-create the ad campaign for Calvin Klein Jeans. For fans of Raf Simons's popcorn-filled runway show for fall 2018, there's a photo booth that simulates the special effects used in the show. So Instagrammable. Plus there will be other surprises to be announced as Friday approaches.
Technically you can't walk out with new clothes from this event but you'll be able to try everything on before ordering it online. Naturally everything will be available for prime shipping. And if you're not in New York or you can't make it to the event you can shop some of the core styles available on Amazon below.
If you buy something through our links, New York may earn an affiliate commission.