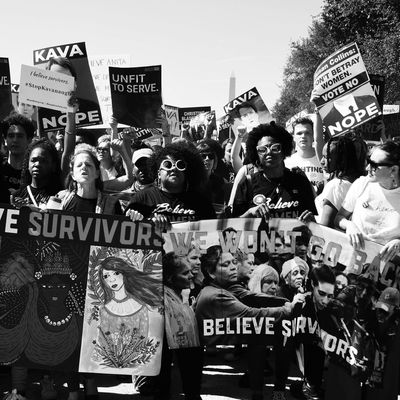 A scene from today's protest.
Photo: JIM WATSON/AFP/Getty Images
Right now, mass crowds are making their way to the Supreme Court in Washington D.C., as part of today's "#CancelKavanaugh" protests, ahead of Friday's likely vote on Brett Kavanaugh's confirmation.
The protest began at 12:30 p.m. on Thursday at the Barrett Prettyman Courthouse — where Kavanaugh currently sits as a judge — and will culminate at the Supreme Court. "We're marching from Kavanaugh's current courthouse to the one he hopes to ascend to," tweeted the Women's March, which helped organize today's event. "We'll do everything we can to make sure he doesn't get there."
Busloads of sexual-assault survivors and their supporters came in from across the country, the Huffington Post reports. In addition to thousands of marchers, a slew of celebrities are slated to show up.
"If there was ever a moment when the voice of the people can come together in concert to change the fate of our nation, this is it," the event's website reads. "The legitimacy of the nation's highest court is at stake, as is the future of our country." See below for the most powerful scenes from the protest.