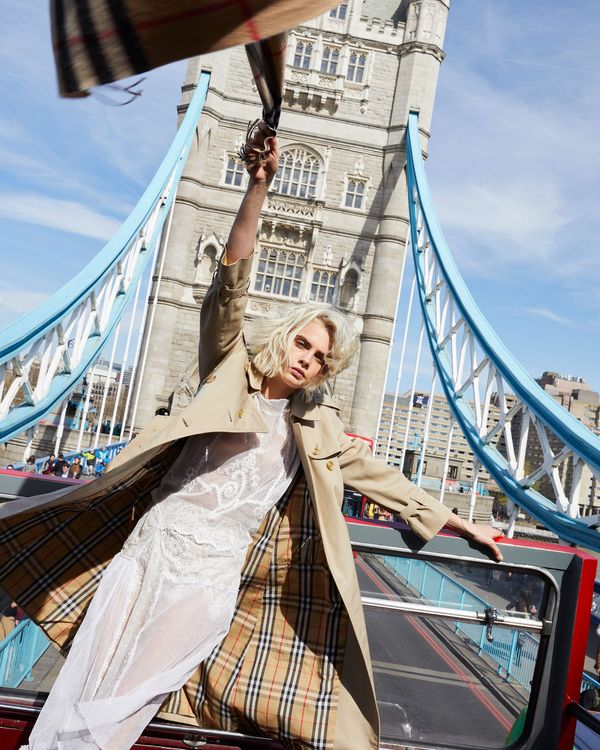 London's #1 fan, Cara Delevingne.
Photo: Juergen Teller/Courtesy of Burberry
What do the 2013 Spike Jonze film, the running joke about Ann from Arrested Development, and the new Burberry fragrance have in common? It's a single word: Her. "Her" is the name of the brand-new Burberry fragrance for women which "captures the bold attitude and adventurous spirit of a Londoner." And who could be more of those things than Cara Delevingne?
Her, the fragrance, is described as "vibrant, fruity, and floral," and designed by perfumer Francis Kurkdijian. It has top notes of various kinds of berries — some of which you might include in your morning smoothie, such as blueberry, raspberry, and black currant.
The ad, shot by Juergen Teller, will feature candid photos of Delevingne gallivanting across some of her favorite places in London, eating ice cream and letting dogs slurpily lick her face. Watch some more behind-the-scenes images from this short video, where Delevingne expresses how much she appreciates London, and how proud she is to be British. If you want to capture that same bold-adventuress London spirit, you can trying spritzing on "Her." But always remember to mind the gap.
Photo: Courtesy of Burberry
If you buy something through our links, New York may earn an affiliate commission.