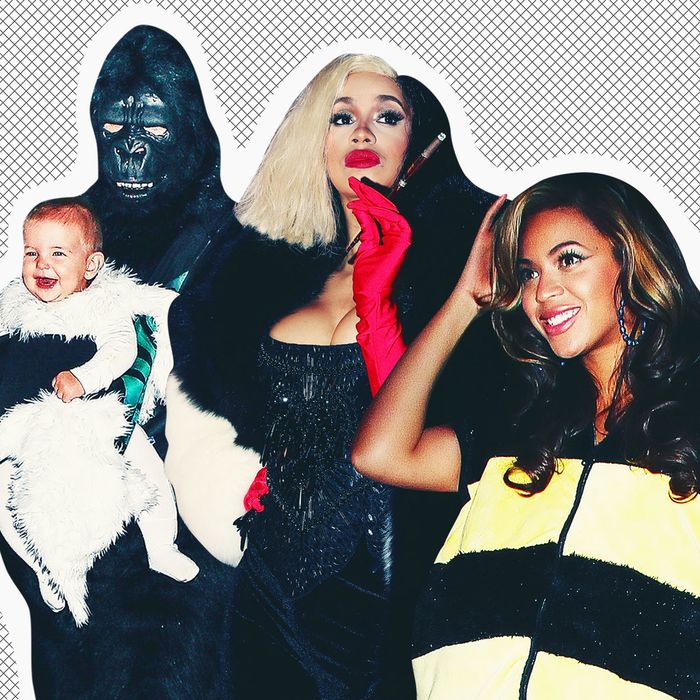 Photo: SplashNews, Getty Images
Welcome to the spookiest time of year — for celebrities. Right at this moment, our beloved actors and pop stars and reality TV personalities are sifting through numerous branded Halloween party invitations, deciding which events to attend, and more importantly, what to wear. Is it "easy" for celebrities to pick their Halloween costumes? You might think so, given that they have so much money and also assistants to go to the store for them. But plenty of celebrities end up wearing lame, inscrutable, offensive, or just plain bad costumes every year. So maybe it's kind of hard. To inspire celebrities to be their best this year, we've created a list of those who have succeeded at picking Halloween costumes in the last ten years. Here are the best celebrity Halloween costumes in recent memory.
Kylie Jenner as Christina Aguilera, 2016
Jenner debuted this faultless homage to Aguilera's "Dirrrty" era at the Halloween Weekend at Bootsy Bellows PacSun Takeover party in 2016. (Her then-boyfriend, Tyga, performed at the party, and her sister Kendall Jenner "DJ'ed.") This is the sort of commitment and attention to detail I expect from a teenage almost-billionaire. According to Us Weekly, she had the fashion designer Bryan Hearns create the custom look in two weeks, which is the kind of thing you should definitely do, if you're a celebrity.
Chrissy Teigen as Guy Fieri, 2015
Teigen put this blindingly accurate Fieri costume together for the Halloween episode of her now-canceled daytime talk show, FABLife, in 2015. While I don't remember almost anything about that show, which also starred Tyra Banks and Joe Zee, for some reason, I will never forget the dedication Teigen exhibited in creating this truly stunning look.
Nina Dobrev as the horse from The Revenant, 2016
This one is particularly good because of the context. In 2016, Leo DiCaprio "finally" won an Oscar for his role in the serious and intense Big Boy film The Revenant, which involved him getting mauled by a bear, or something (I still haven't seen it). So for Halloween that year, Nina Dobrev — a solid B-list actress known for her roles in Degrassi and one of those vampire shows — made fun of the whole thing with her costume. And she wore it to a party that DiCaprio himself attended. Both Dobrev (as the horse from The Revenant) and DiCaprio (as a werewolf) were seen at the Casamigos tequila party in Beverly Hills. Thank you, Nina!
Bruce Willis and his assistant as the twins from The Shining, 2017
Bruce Willis made his assistant do this with him! Now that's the kind of celebrity behavior I love. According to the Daily Mail, Willis "couldn't contain his giggles" as he and his assistant, Stephen J. Eads, walked into M. Night Shyamalan's Halloween party in Philadelphia last year wearing these outfits. Hehe.
Cardi B as Cruella de Vil, 2017
This time last year, Cardi B had just gotten engaged to Offset and was well on her way to becoming very, very famous, and she still had time to put together this perfectly styled Cruella de Vil costume for the Bacardi Halloween party in Manhattan. What puts the whole thing over the top, of course, is that she brought a real dalmatian with her to the event.
Dakota Johnson as "Blow Jobs," 2015
I have searched tirelessly for days, and I still can't determine which party Johnson wore this costume to in 2015. Perhaps she just wore it for herself, in her home. And that makes it even better.
Emma Roberts as Vivian Ward in Pretty Woman, 2012
Roberts owes her career to her aunt Julia, and it's nice to see that she knows that. She dressed up as the iconic Vivian Ward to go to Casamigos co-founder Mike Meldman's Halloween party in Beverly Hills in 2012. Sometimes the best costume is self-awareness. (Just a note: Julia was 24 when she starred in Pretty Woman; Emma was 21 here.)
Beyoncé as a bee, 2011
In the last five years, Beyoncé has worn more creative and technically perfect Halloween costumes than any other celebrity. Alongside Jay-Z and her daughter Blue Ivy, she has dressed as Salt-N-Pepa, the Jacksons, Barbie and Ken, Lil' Kim … you can see most of the looks here. But I'd like to go back to 2011, when Beyoncédressed up as a bee. The queen bee! It's so good. According to Pop Sugar, she was pregnant with Blue Ivy at the time, and she wore the costume (that she maybe bought at a pop-up Halloween store?) to a costume party at the Darby hosted by Kanye West and Anja Rubik. Vinny from The Jersey Shore was there? It was a simpler time.
Melissa McCarthy and Sandra Bullock as Gorton's fishermen, 2013
A few months after the release of their buddy comedy The Heat in 2013, McCarthy and Bullock took their kids trick-or-treating in these exemplary disguises. "No sexy Halloween here!" cried the Daily Mail at the time. But that is a good thing.
Dylan Sprouse as Fabio, 2017
Usually things get tricky when celebrities try to be "clever," but Sprouse's costume idea for last year ended up being very successful. Do you get it? He dressed as Fabio after the infamous goose attack at Busch Gardens in 1999. (See here.) Sprouse wore the costume to Heidi Klum's annual Halloween party in Manhattan.
Bradley Cooper as a gorilla, 2013 and 2017
Let me say up front that this costume is not "good." Wearing a big gorilla suit on Halloween is not particularly creative or fun. But what I appreciate about this costume is that Cooper dared to wear it twice. In 2013, he was photographed wearing it on a motorcycle with his then-girlfriend Suki Waterhouse (a model). They went to Kate Hudson's annual Halloween party in Beverly Hills. Then, last year, Cooper wore the same gorilla suit while trick-or-treating with his new baby, Lea, and his current girlfriend, Irina Shayk (also a model). That's economical! Especially if you consider the possibility that Cooper did not pay for the gorilla suit in the first place.
While searching for other instances of Cooper wearing the suit, I found that he first wore it for a circus-themed Vanity Fair cover shoot in January 2013. Did Cooper steal a gorilla suit from a magazine photo shoot and then proceed to wear it to two different Halloween parties with two different model girlfriends over the course of five years? I can't confirm that, but it certainly looks that way. A-plus!