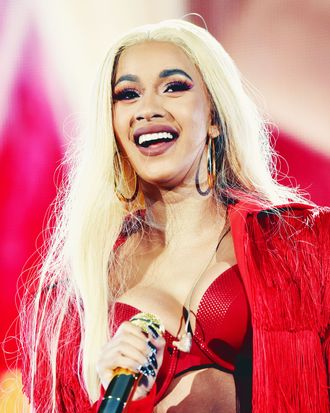 Cardi B.
Photo: Kevin Mazur/Getty Images for Global Citizen
Cardi B was treated to an extremely shiny and expensive surprise birthday party this weekend by her husband, Offset. But don't let all of those diamonds fool you into thinking she's no longer down to Earth.
Yesterday, Cardi's hairstylist Tokyo Stylez posted an Instagram video of the rapper doing something both level-headed and very relatable: combing her hair with a fork (a Dinglehopper in this particular use case) because she couldn't find a hairbrush backstage at the Drake and Migos show in Los Angeles before making
a surprise appearance on stage. Better yet, she didn't even use a metal, silver, or stainless-steel dinglehopper, but a plastic one, which is way more affordable and budget-conscious.
While it can be distressing to be unable to locate a comb or hairbrush when in need of one, the good news is that Cardi's long wig was so sleek that the recyclable dinglehopper effortlessly glided through the hair with nary a snag. (Perhaps this is why Stylez didn't have a comb with her in the first place — her wigs are just that good!)
I'll be the first to admit that this event is further proof that The Little Mermaid is still an excellent source of beauty inspiration. But it must be noted that Cardi B also spent the better part of her birthday party recap mentioning that she was still "fucking hungry," so the inspiration behind her choice of hair utensil could be more nuanced than it looks and not entirely credited to Ariel alone.