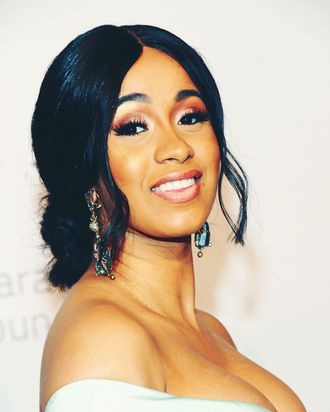 Cardi B.
Photo: Desiree Navarro/WireImage/Getty Images
When Cardi B paid a visit to the Marlboro public housing project near Coney Island in Brooklyn last night, a large crowd quickly gathered. But not for all the reasons you might think.
Yes, everyone wanted a glimpse of the chart-topping musical artist, who just celebrated her 26th birthday. (Everyone also wanted a selfie, if possible.) But Cardi was also there to help give out free winter coats to those in need. A Bronx native, she knows how cold New York winters can get. And this event was particularly well-timed, as New York is in the midst of enduring an unusually cold fall. Cardi also knows the importance of a good-looking coat, although Fashion Nova styles were not among the offering on Thursday night.
The event was organized by a local designer and Cardi's close friend, who asked if she wanted to make an appearance. According to reports, Cardi was scheduled to show up at 5 p.m. but arrived hours later, saying that she was at a photo shoot that she "didn't realize" she had to do that day. The night before, she made an appearance on Jimmy Kimmel Live, where she opened up about her experience with childbirth.
"I didn't know it was gonna be so big," Cardi B told WABC about the number of people who showed up. (The Marlboro Houses are comprised of 30 different buildings.) Unfortunately, due to the unexpected number of people in attendance, not everyone got a coat. But many fans were happy for the chance to take in Cardi B's personal warmth.