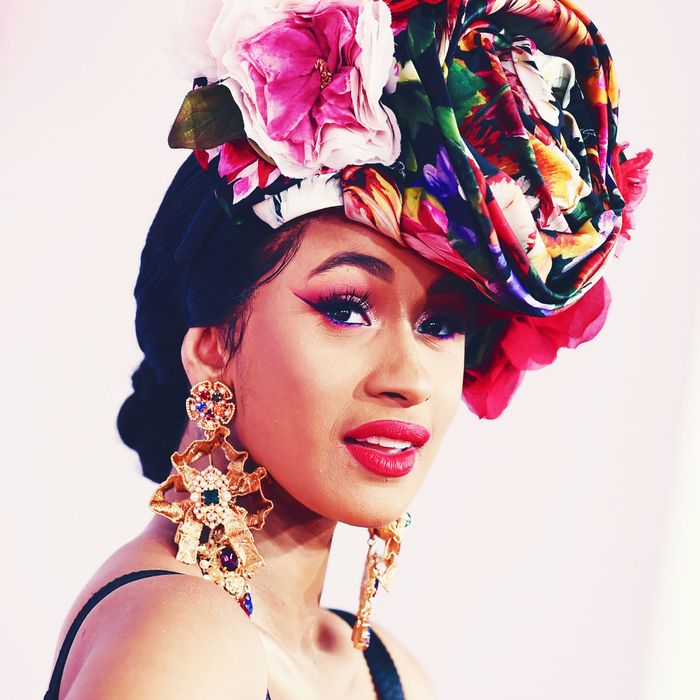 Cardi B.
Photo: Valerie Macon/AFP/Getty Images
Cardi B, never one to shy away from telling it like it is, went on Jimmy Kimmel Live! last night to discuss fame, her baby Kulture, and the things nobody tells you about motherhood.
"She broke my vagina," Cardi said, laughing. "Why does nobody tell you about those things? Nobody told me they were gonna stitch my vagina," she said. "People just be like, 'Oh, when you give birth, it's gonna hurt.' But nobody tells you."
Cardi is among several celebrities — including Beyoncé, Gisele Bündchen, and Serena Williams — who have recently opened up to the public about the physical and emotional toll of new motherhood.
But Cardi has no reservations about her choice to become a mother. When asked if she's enjoying it, she said, "It's the best. It's like, 'Oh my gosh, should've had you when I was a teenager.' That's what I was missing my whole life? I love you." She added that she'd like to eventually have three or four kids in total.
According to Cardi, Kulture is "very fiesty." "I'm like, oh snap, I already see it coming," she said. "My husband used to tell me, 'Stop screaming and stop catching that attitude when you pregnant because you gonna pass that to the baby.' It's like, I did."