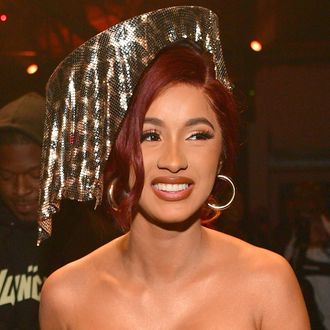 Cardi B is back, bitches.
Photo: Prince Williams/FilmMagic
When Cardi B released her debut album earlier this year, she was still pregnant with her first child, Kulture. The full reality of motherhood had not yet sunk in. Fast-forward a few months and Cardi's knee-deep in doo-doo, spit-up, and heavens knows what else, and it's dawned on her: This literal shit is expensive. Cardi has returned with a new single called "Money," which is less about having it (as you would expect from those 100 watches she's wearing on its cover) but still really requiring more to maintain this whole working rap-star mama lifestyle. "I got a baby, I need some money," she says. "I need cheese for my egg." And as much as she enjoys the finer things in life, her baby, while pricey, is still priceless, okurrr?!: "I was born to flex / Diamonds on my neck / I like boarding jets, I like morning sex / But nothing in this world that I like more than Kulture." Say it with me now: Awwww.