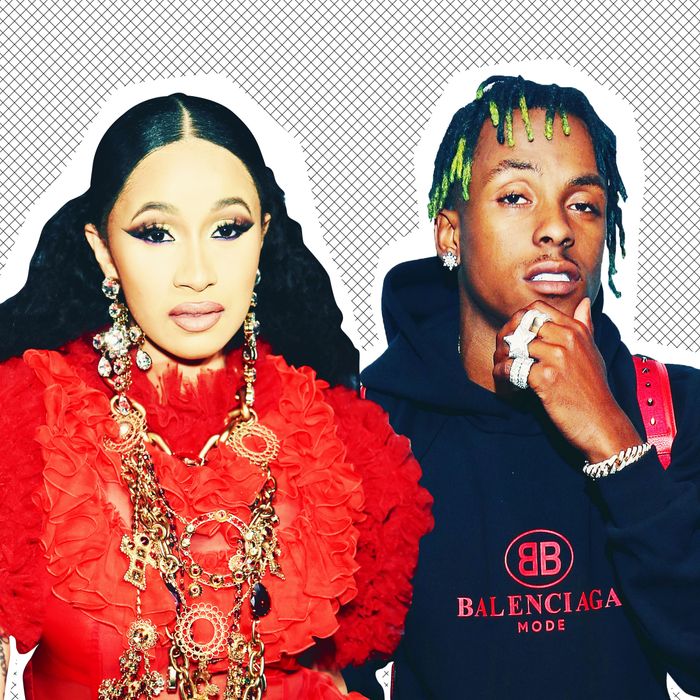 It was a tale of two mitzvahs: Uptown, a lavish fête at the Met's Temple of Dendur for Ryan, with a performance by Rich the Kid; downtown, Jake brought a host of Knicks City Dancers and Cardi B to his Tao extravaganza. The rappers performed at "dueling bar mitzvah parties" this weekend, per "Page Six" — both alike in dignity.
How much did these Super Sweet Bar Mitzvahs cost, you may ask? More than what it would cost to pay off your student loans three times over? More than the amount of cash that lived in Anna Delvey's Rimowa suitcase?
According to one "Page Six" source, Cardi B "wouldn't get out of bed for less than half a million." Jake, the bar mitzvah boy lucky enough to enter manhood to the sweet sounds of "Bodak Yellow," was reportedly flanked by Knicks City Dancers as he arrived to the party. The event also featured food from different Tao Group restaurants, including Lavo and Artichoke Pizza.
"Bro, I just left my first bar mitzvah. I just did a bar mitzwah for this cute little boy called Jake. Epic," she said on her Instagram stories following the event. "How you close TAO on a Saturday night? The hottest restaurant in New York. How you do that? That's different."
Meanwhile, uptown, Ryan — the son of Cantor Fitzgerald CEO Howard Lutnick — celebrated his entrance into Jewish manhood at the Met Museum's Temple of Dendur, where the Met Gala is held every year. The performance by Rich the Kid reportedly cost between $200,000 and $300,000. The party was attended by 100 kids and 200 adults, including Duchess of York Sarah Ferguson, and was catered by the Paris restaurant Caviar Kaspia.
Mazel tov to all involved — especially Cardi B, for raking in enough money to get out of bed.