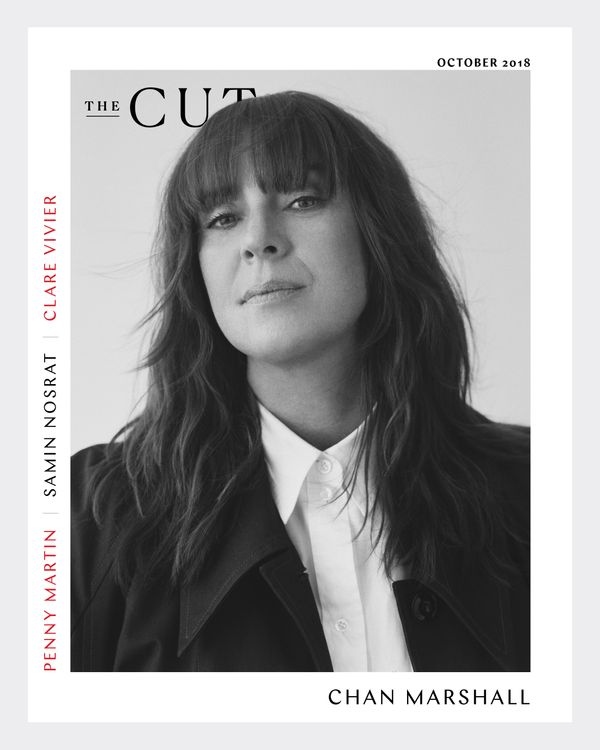 Lemaire
overcoat, 950€ at
lemaire.fr
.
Simone Rocha
top, $440 at Simone Rocha, 71 Wooster St.
Photo: Stella Berkofsky
Let's just get out of the way that Chan Marshall, a.k.a. Cat Power, the indie-rock icon who has been known to cancel a tour to take care of herself, is okay. Not that it's our business. Except when she makes it our business.
I interviewed Marshall on a rainy, early September day in New York, in the rent-stabilized apartment she's had on the Lower East Side for more than 20 years. She's here for a few days to promote Wanderer, her first album in six years, and her tenth studio album as Cat Power, due out on October 5 from the indie label, Domino. How okay is she? When showing me to the bathroom of her Lower East Side pied-à-terre she gave me a tour of the closet-size facilities, offered me an array of hand towels (one is hers, the others belong to her roommates), and pressed a fresh bar of soap to the sinktop, announcing "and here you go" with the peach-sweet instructional charm of a stewardess. Before we began our interview, she'd showed me photos of her 3-year-old son, Boaz, who appears on the cover of Wanderer. In the pictures on her phone, he is on a playground near their home in Miami, the fronds of distant palms ringing his towhead like a halo, her smile huge. Marshall vapes, speaking freely if somewhat elliptically, using eye contact like punctuation to underscore her point, and offers me water with the solicitousness of a great waitress. Marshall comes across as confident, a charming grown-ass woman of 46, and I'd say she's perfectly goddamn fine.
For Cat Power fans, the history of Chan Marshall's "okayness" hasn't necessarily been a spectator sport or subject of curiosity so much as a factor in deciding whether to see her perform or even pick up her new album. Since her 1996 breakout, What Would The Community Think, speculating on Marshall's well-being has been based on whether she has rambled and gambled the audience's patience at her shows; or if she was curt or lax about her boundaries; or canceled a tour to take care of her mental or physical health, as she did after releasing 2006's The Greatest and again in 2012 for Sun. Marshall is a singularly gifted American artist in communicating grief and conjuring disillusionment, consistently celebrated unless her darkness gets, well, too dark. So perhaps it's not surprising that Cat Power's songs' persistent lament evokes the idea she's more than an enigma and vessel for expectation. On her new single, "Woman, she sings, "If you know people who know me /you might want them to speak / To tell you bout the girl or the woman you know/ More than you think you know about me."
"There are streets that I don't walk down anymore," says Marshall, taking a deep drag of a half-finished American Spirit, while sitting on her quilt-covered daybed, leaning toward her open bedroom window to exhale, waving out the smoke with her hand like a bad teen hoping not to get busted. "I'm old school, I can't waste anything," she says tangentially, referring to her cigarette before returning to the subject. "There's nothing for me there anymore." Marshall has maintained this room in her friends' apartment since she first moved in as a young artist fresh from Georgia, subsisting on odd jobs and $1.80 breakfasts (with coffee) from First and First Cafe. She says the cheap rent has allowed her to foster her career. Though she'd considered it, Marshall has never given up music, though she has given up full-time New York City–living for Miami these past few years.
Her bedroom is like a cool-girl museum piece: crocheted lace curtains, a bust of a Native American chief, repurposed glass perfume decanters, faded framed Polaroids of a lost love, books on Buddhism and love, naïve wall art, Fender amps, feathers. Yet, there are small, augmenting clues of another life: her son's Clifford the Big Red Dog books haphazardly stuffed between two vintage Silvertone guitars. Rearranging the plush velvet pillows behind me, I locate what's poking me: Boaz's plastic Woody figurine, from Toy Story.
Most everything in New York has transformed for Marshall, she says. "There are friends that aren't around anymore. Ludlow Street is gone. The bag of peanuts that I'd give to the squirrels, that were always in the bodegas — the bag of peanuts aren't there anymore, only sour-worms candy," says Marshall, laughing, mocking her own wistful nostalgia for a Manhattan lost amid the nonstop gentrification. "I got a waffle from Veselka, and took my boy to Tompkins Square Park — [the squirrels] just didn't want that waffle." She's careful to qualify her nostalgia. "I don't go back to the past too much, 'cause there's always so much growth to people's lives," but it's clear she's talking about her own as much as any one she ran with back in the day.
For over a decade, Marshall has been labeled "a survivor" on each Cat Power album since her seventh, The Greatest (2006), when she first canceled a tour. Since then, multiple tours have been called comebacks, and her album releases have tended to follow, or at least coincide with, personal cataclysm: break-ups, hospitalizations (The Greatest; Sun), or dark spiritual visitations (Moon Pix, 1998). The travails of releasing Wanderer are as totemic to Marshall's cast-iron will and righteous artist instinct as anything on the album itself. Sun, her previous album, debuted at No. 10 on the Billboard charts — a first for Marshall — but that day she was in intensive care, by her own account "fighting to stay alive," one of several hospitalizations before she would be diagnosed with an autoimmune disorder that year.
Her success didn't even register until months later, says Marshall. She'd cancel the European tour in order to recuperate, but was back on the road soon enough, and feeling the pressure to make her record the hit she says Matador — her longtime label — was pushing her to deliver. "They had said that I needed top producer, famous band. And I chose to become very stubborn and did everything myself," she explains. "I did my very best, I worked so hard on it. I was so proud of it. I was so happy with everything I had created, and out of thin air." Marshall still carries the sting from discovering, months after the fact, that upon hearing she was hospitalized they pulled all the marketing on Sun, a point that Matador disputes. "They weren't betting on the horse to win." She says she fundamentally misunderstood the transactional nature of her connection to the label as something close to kin, "Just because somebody told me I was their family, I didn't need to believe them. It was business to them, and they knew it was business. But I didn't."
Trying to keep up up appearances of being "okay" decimated Marshall's health. "I was on tour for a year and a half with [Sun], and was still sick all the time, and hiding it. And just thought, Well, if I'm going to die anyway, why am I singing? What is this fucking doing?" By September 2013, she was exhausted, deeply inspired by the Occupy Wall Street movement while feeling disenfranchised by her own work, and isolated by the trauma of what she describes as a near-death experience and chronic illness. "I felt so invisible. I felt like I maybe had died. Not physically died, but the Cat Power thing. Like myself, as an artist. I felt like I had died. It was as if I didn't know this person I was now, because I had gone through something life-changing. I was on slate one. I was on page one, and I felt invisible, because I had no idea."
And that is when Marshall discovered she was pregnant. "Instantly I knew exactly what I had to do. Instantly I understood that now it's time to play the protection ball game, and no one fucking wins this game but me," Marshall explains. "I moved back to Miami. I found a house for rent. I got all my fucking music gear out of storage." She toured until she was into her seventh month, came home, baby-proofed her new house and set up a home studio at the same time. Her recording engineer moved from France into the spare room. "I had my child. Went on tour when he was 2 months old. When he was 3 months old I started working [on Wanderer]."
The usual story line is that motherhood remakes a woman, and especially if she's a woman artist. There's a cultural hunger for this — babies tempering one's selfish practice of art is taken as proof of against ambivalence, as if the demands of motherhood cannot possibly align with art-making, for motherhood is defined as an act of sacrifice. As Adrienne Rich wrote, the suffering of the mother is the primary way culture identifies a woman as a mother. Marshall, a single mom who tours with her now-3-year-old and a traveling nanny in tow, is having none of that. For Marshall, the difficulties of parenthood are relative, "He has my great-grandmother's first name [as his last name] — Sarah. I thought of her all the time, she was a cotton picker, alone with five kids, with no electricity." On the album's cover she holds both Boaz and her guitar close to her against a barren desert background. While her son's place is totemic — he is important to this album, she says — but she resents the idea that his arrival rearranged her artistic DNA. "The question is usually, "How has your son changed your songwriting, and changed you as an artist?" He hasn't changed my songwriting, as an artist, he hasn't changed me. But as a human being, he's fortified something."
For all the dynamics of her Cat Power career arc, one could miss the real through line of it — the power in Marshall's vulnerability, the sheer tenacity and force of will that has powered her work, a 25-year career defined by fortitude. With Wanderer, there is really no missing it: the album is a testimony to her autonomy and confidence, Cat Power distilled down to an unadorned, few-fucks-given essence. Marshall's soft Georgia drawl has grown a little huskier, raspier, but her familiar themes of God's grace, American might, familial bond, nights both good and bad, odes to cool girls, romantic disillusion, the desire to stay/leave are still here. "Woman" feels like a dare: "I'm a woman of my word / Or haven't you heard / My word's the only thing I've ever needed," and calling her cage her weapon. The song ends like a mantra, with Marshall's and Lana Del Rey's voices entwined in incantation, as if divining something "Immawoman / Immawoman / Imma wo-o-oman." Marshall sounds a woman who is sure of all that she is, with little pity for those can't grasp her depth or power.
Over the course of a year, in between Cat Power tours, while Marshall put the elegiac folk-blues of Wanderer to tape in Miami and then L.A., she says her life and purpose became clarified by sense of mission: "This new life, these new songs, I'm going to protect them. I'm not going to fight anymore with [Matador]. I'm going to make whatever comes to me, and that's that, and that is art. I have to trust art because I'm here. I was so with my own child, and my own fucking songs that I wasn't going to let any outside influence in. Just to make art! That's all." Days after she delivered the record to Matador — her home for seven albums and 20 years — they rejected it, and Marshall was suddenly, unexpectedly on her own.
But the rejection galvanized her. "The 70-year-old me, whom I have yet to meet, was like, You ain't got no time for this shit. You fucking fuck those motherfuckers. You got your kid here. Keep working, do what you do. Life will continue. You're going to be okay," Marshall explains. Despite all the evidence of just how much her music mattered — her fanbase, her awards, collaborations with legends like Teenie Hodges, having been the face of Chanel, raising substantial funds for causes she cared deeply about — Marshall wrestled with doubt, wondering if this was all the result of failings of her art. She mapped out an ever-after that didn't involve her being an internationally acclaimed independent artist. "I'm an amazing waitress. I can cook really well. I'm good at cleaning house. I know how to do shit with my hands.'" Marshall laughs and shrugs. "When you become a parent, those kind of thoughts are more normalized in your thinking pattern because you have a little child that you need to provide for." The "bitchy" arguments of her 70-year-old self won out, and Marshall pushed on with Wanderer.
Amid Marshall's nimbus cloud of doubt came an unexpected break from a longtime fan: Lana Del Rey. After Del Rey's 2017 album Lust For Life, she thanked Marshall and publicly held up Cat Power as an influential template for her own work; she also invited Marshall as support on her European tour. Over long evenings, the two bonded, as they talked about their lives, their romances and male friendships, their fathers. "Us having these conversations, I was like, 'Dude, do you want to sing on this song with me?' " The song, "Woman," is the lead single, a song Marshall had been working on and struggling with since her first session for Wanderer but it didn't feel quite right to her and she'd left it off the version of the album she'd initially presented to both Matador and her new label, Domino. Del Rey's camaraderie and conversations made Marshall realize what the song needed needed was another woman's voice to change its bearings. "Lana is singing with me, loaning her credibility as a female who sings about darkness. It's not sad Cat Power singing about her experience of being a woman. It's we are multidimensional beings," says Marshall as works the ashy smudges of eyeliner off her fingertips, rubbing them on the legs of her short-sleeve navy jumpsuit. "All these other projections that had been on me from the press, the ex-label. Having another female opened the door for the listener to understand that I wasn't alone in it. The subject wasn't me, it was us."