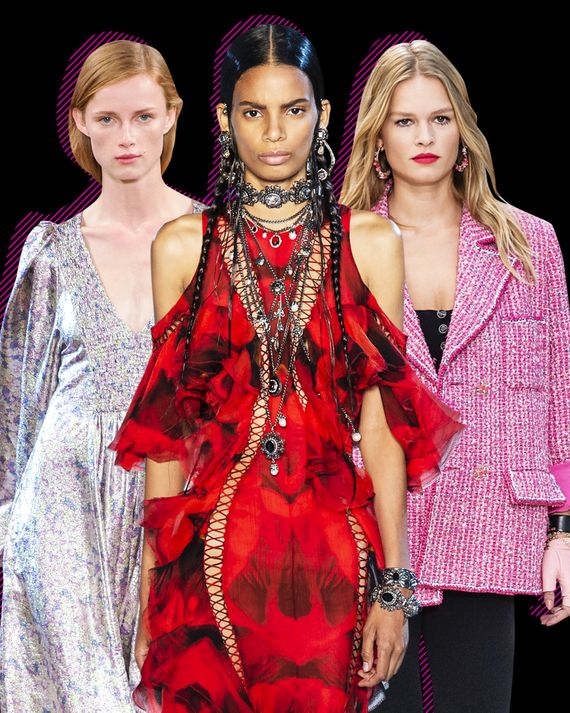 Photo: Imaxtree. Illustration: Lauren Tamaki
I don't know if Karl Lagerfeld ever actually watched Baywatch, but he was smart enough to invite Pamela Anderson to Chanel's beach party in the center of Paris, where she posed against the blue sky, the lapping surf, a ton of sand, and some cute tiki huts before the show began.
It all looked so real. Well, she is real, and so was the water, but the blue backdrop was as magical as a Hollywood digital effect, and the models on Karl's beach looked even better — crisper, more actual — when you viewed them as an image on your phone than they did in person.
The whole thing was a reminder of how Lagerfeld, at 80-something, does it year after year after year: he keeps the fun factor in fashion. I've never known anyone in this business to laugh as hard as Lagerfeld — at a dirty joke, a morsel of gossip, a bag in the shape of a Hula-Hoop.
He had his models trek barefoot across the sand, as if headed for the ultimate beach bachelorette party, and the nonchalance of the gesture conveyed the lightness of the clothes. I would also argue that the sight of 80 or so young women enjoying themselves in their Chanels makes you want to join them, in a way, say, that a skirt with a shark bite doesn't.
Lagerfeld doesn't let things get complicated. This was an especially good collection not only because it dealt nimbly with the matter of lifestyles; it also cut across age groups. There were classic boucle suits and a new, boxier jacket in pastel and sand tones, and an array of ageless sportswear, including jeans, cute shifts, cardigans, and bathing suits. I loved the evening clothes, in breezy layers of black tulle with subdued embroidery. Again, they reflect the more casual way that a lot of women live now.
The accessories, in their abundance and sea-themed sparkle, almost seemed a Lagerfeldian riff on Chanel's status-thirsty consumers. In addition to bags in the shape of a beach ball or made in wicker with the logo on the side, they can boast two quilted shoulder bags joined by a clasp on the chains.
In order to experience the full flavor of Sarah Burton's designs for Alexander McQueen, a person should probably jump in her 21st century time machine and travel back to England in the Bronze Age. Instead, I dropped into the backstage at the Orangerie du Senat, where I found Burton in a congestion of hairstylists, dressers, tables laden with accessories, and young models dressed in pagan and warrior glory.
Her work demands to be seen close up: the intricacies of lacing, the details of hand-painted leather, an elegant black coat composed in part of the buckram used for a Stockman dress form. Proust said of Mariano Fortuny's treated silks and velvets that they were "faithfully antique yet markedly original." I can't think of another living designer who goes to Burton's lengths to transform history — specifically English history — into contemporary fashion. A faded ivory silk dress with light corsetry and a blurry floral pattern was based on a Victorian wedding gown; the print was the result of layering a photograph by Julia Margaret Cameron onto the process and creating a new image.
"Come have a look," Burton said, beckoning me toward a trio of models in creamy knitted dresses with black leather half skirts that probably came from blacksmiths' aprons. We paused by Binx Walton, in a classic McQueen pantsuit, all sharp shoulders but with the jacket seams slashed open and then relaced. "I wanted to suggest clothes pieced back together, mended," she said.
The model Selena Forrest, in a richly embroidered coat of flowers with matching skinny pants, was ready to give her own description of her outfit. Burton gave her the floor. "We didn't want it to be one fabric, we thought it would be a little boring," Forrest said, doing a half twirl of the coat, which had an asymmetrical hem. "So we mixed four different fabrics together."
In a sense, all McQueen shows since the brand's inception have had an emphasis on feminine strength — most vividly in Alexander McQueen's incredible tailoring but also in his fantastical depictions of women as everything from goddesses to undersea creatures. Burton has brought more romance to the brand, and a gift for storytelling that connects with younger customers. (Indeed, if there was a fault with this otherwise strong collection it was that most of the designs — the dairy-maid dresses, the slashed jackets over low-rise "bumster" trousers, a gorgeous tuxedo that resembled deconstructed pieces of armor — were limited to younger women. Given the brand's tailoring tradition, as well its engineered prints, it could easily cover a wider range of ages, not just bodies.)
Stella McCartney's tie-dyed T-shirts and denim, her knitted lace baby-doll dresses, and boiler suits, were largely a gift to Zara. The clothes had all their usual McCartney ease, but in a season of strong statements — the wit of Chanel, the gender studies at Balenciaga and Givenchy, the chic nomads at Giambattista Valli — this collection lacked a distinctive edge that would keep it from being fodder for fast-fashion retailers.