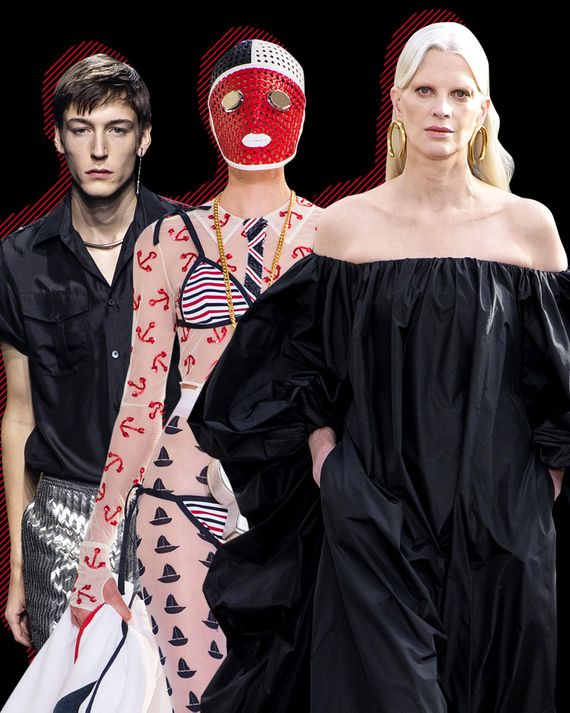 Photo: Imaxtree. Illustration: Lauren Tamaki
Prettiness hasn't disappeared on the runway — there's always Valentino — but it doesn't signify newness nearly so well as Balenciaga's square-cut shoulders or the hard, chiseled features of the Swiss model Veronika Kunz. Last night, dressed in Givenchy's bottle-green motorcycle jacket tucked into high-waisted taupe trousers, Kunz encapsulated a feminine toughness that was more secure and modest than in-your-face.
Those qualities of strength and modesty, presented against a roiling backdrop of images and gender assumptions, are why Clare Waight Keller's Givenchy and Demna Gvasalia's Balenciaga together offer the most intelligent expression of 2019 fashion. Strikingly, both rely on tailoring.
This represents something of a return to first principles for the houses of Balenciaga and Givenchy, which were once neighbors on Avenue Georges V. In the last 25 years, Balenciaga has seen the street-cool era of Nicolas Ghesquière and Alexander Wang, while Givenchy has been home to the showmanship of Alexander McQueen and the conceptual angles — goth, religion — of Riccardo Tisci. But Cristóbal Balenciaga was a mentor to Hubert de Givenchy, and both couturiers built their reputations on tailoring.
Gvasalia worked with the artist Jon Rafman, who is based in New York and Montreal, on the spectacular set for his show: a tunnel composed of curved video screens whose exploding, liquid-like images left you a little woozy. Gvasalia said he has long wanted to simulate the feeling of "being inside someone's digital mind." Rafman understands his work as showing how new technology has collapsed the line between the virtual and the real — or, as he put it, "how the copy is more valuable to us than the original."
Last season, Gvasalia used 3D printing to imitate Balenciaga's '50s-era silhouettes, which may have been the first time the technology was applied to high fashion. He's also played around with logos and other couture (or Parisian) signifiers in a way that suggests his interest in digital imagery isn't merely topical or good for a fashion gag. But working with a kindred spirit like Rafman certainly helped clarify ideas for him. His treatment of the logo — in a densely layered print, in raised tan letters on a tan coat — was more nuanced this time. Suits and jersey tops with floating, metallic miniatures of the Eiffel Tower seemed less kitschy and more of a piece with the immersive setting.
The tunnel also put the tailoring in focus: The sleek coats and suits seemed to power through the chaos. Gvasalia continued to develop the molded silhouette from last season, except the shoulders are now square and flat across the top. ("They're almost sofas."). Other styles, like a leather jacket and a raincoat, had extreme, '80s-style rounded shoulders.
There were also examples of something that Gvasalia called "neo-tailoring" — a plain, long-sleeve shirt/jacket with matching pants. He said, "It takes away the obligations of a suit." Chairman Mao had the same thought. Ultimately, though, I felt that Gvasalia had tailored most of the collection to have a sense of control and modesty within its hyper-charged medium.
If Waight Keller's first dozen female models had the angular faces of '30s male film stars, with cropped hair, it may be because her muse, Annemarie Schwarzenbach, a Swiss writer and photographer of that period, often looked that way herself. She was raised to not dress (or behave) like a girl or a boy.
That was a simple way for Waight Keller to inject a boyish toughness into clothes — which she does naturally, having worked in menswear design — and also to acknowledge the moment. But the collections stood apart for reasons strictly related to fashion. For one thing, Waight Keller proposed a fresh, confident look with her high-waisted pants, shown with a fitted jacket (tucked in) or a military-style shirt with wide-cut sleeves. For another, her palette of petrol and cadet blue, moss and forest green, along with black, hues of khaki, and a dash of bitter yellow, was distinctive.
She also tweaked the tailoring. Her jackets still have the sharpness she introduced at Givenchy last fall, but now she's narrowed the shoulders somewhat, so that the silhouette shrinks a bit. That allowed Waight Keller to layer a second, cropped garment over a coat dress or trim jacket. The effect is somewhat ambiguous. Masculine or feminine? On a silver-embroidered evening tunic, with long streamers over the arms, it looked almost medieval.
Practically racing out onto the runway, the models indeed looked like strong modern types. Yet Waight Keller balanced the toughness with a sense of modesty. Nothing went too far. For evening, she showed long, lightweight dresses in engineered floral prints (or with beading), the patterns clustered over the torso and skirt like iron filings pulled by a magnet. They were exquisite, as comfortable as T-shirts, and as Waight Keller knows, like nothing else on the spring runways.
The '90s model Kristen McMenamy opened the Valentino show, her gray mane flying over her off-the-shoulder black maxi dress. I'm not sure what one older woman in a cast of young models signifies, but maybe for the Roman house it's a baby step. The clothes were generally beautiful, especially the opening black section — lots of well-cut caftans and long, feather-tasseled summer tunics that show how hard it is design loose stuff without it looking sexless and sad (The Row, take note.)
As much as I loved the subversive spirit of Thom Browne's WASP-summer-resort-wear — gingham checks, seersucker, and whale motifs seeming to imprison their wearers — I hate seeing models struggle in painful shoes and S&M tie-ups. It's silly. Besides, Browne had so many marvelous pieces in this show, like a dark green woven jacket (think cottage rag rug) and embroidered coats, that they deserved to be plainly seen.