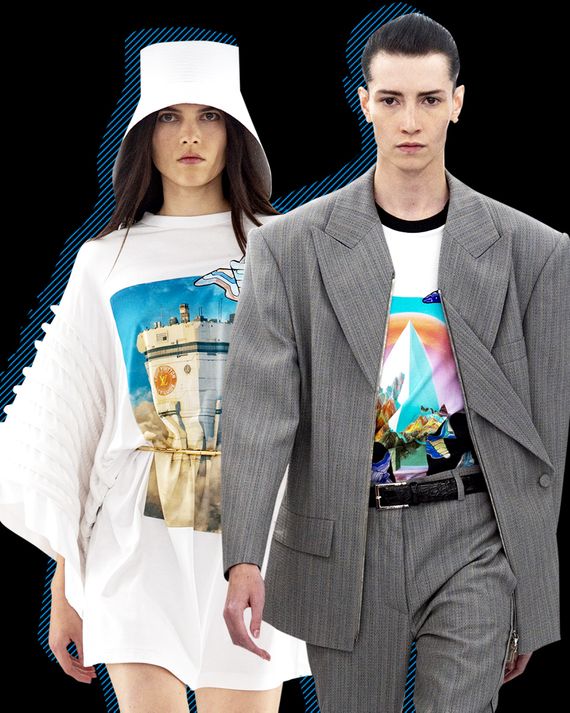 Since the spring shows began a month ago, designers have been letting us know they're paying closer attention to women in the #MeToo era. They've chosen models with strong, distinctive features — not the blank-faced girls of a few years ago — and designs that reflected not only sex and power, but also newer attitudes about gender. And should anyone miss their point, they were prepared with sound bites.
So, in that context, the scene after Louis Vuitton — the last show of Paris Fashion Week — might qualify as a bit of absurdist theatre. Nicolas Ghesquière had just kissed the last celebrity and was now facing a pack of reporters outside the Louvre. He explained that he'd always thought of his designs as "empowering," but this time wanted to draw on his "obsessions," like futurism and '80s fashion.
A stark white coat, in rubber, was made with few seams, he said, to give it "a powerful shape." No, he wasn't thinking of Joan of Arc when he put large silver astronaut sleeves on a minidress: "It's not an armor, it's a shell."
Then someone asked, "What about the men?" This was in reference to three short-haired models whose neutral tailored jackets and suits looked subdued next to the space sleeves and minis in cartoonishly bright prints elsewhere. "Did they get as much attention as the women?"
Ghesquière smiled. "They were actually all girls."
I feel certain that gender tutorials will be available next season.
In truth, Ghesquière could have skipped the power talk. I've never not thought of his clothes, first at Balenciaga and now at Louis Vuitton, as "empowering," but I've also never really thought that it was a point worth dwelling on. His clothes have been exciting and influential for a host of other reasons — the way he combined materials, or interpreted sports clothes, or modernized the Balenciaga codes. I'm not even sure what those tailored looks on the three models had to do with the rest of the collection, vibrant with color and spacey pattern.
For me, this somewhat ragged show — held on a 1,148-foot, glass-enclosed runway that formed a polygon in a courtyard of the Louvre — was relevant for one reason. While there were references to those "obsessions" that first surfaced at Balenciaga, it displayed a very free and youthful mood and what seem like the beginnings of a new direction. Six months ago, Ghesquière showed knee-length lady skirts and almost bourgeois-looking jackets. A year ago he combined Louis XVI–style coats with silky pastel jogging shorts and pants. Cool or not, the foundation for that stuff was tailoring.
This collection took a softer, more irregular approach — starting with the first look, a bubble-shaped jacket in a blue-hued collage of patterns, followed by a wonderful minidress in belted white cotton jersey with weirdly angelic sleeves and a blue patch on the front.
This abrupt shift from an influential designer was the key thing as the spring shows ended. At a time when his successor at Balenciaga, Demna Gvasalia, is experimenting with tailoring, when Hedi Slimane is finessing the line of his suits at Celine, Ghesquière began to move away from structure, like a Ferrari going in reverse.