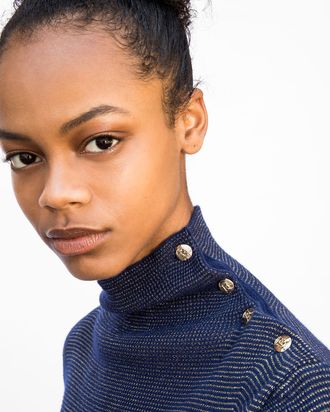 Sweater designed by Kristin Scott Thomas.
Photo: Courtesy of Sonia Rykiel
Kirsten Dunst and Kristin Scott Thomas are joining the ranks of Mary Kate and Ashley Olsen, Victoria Beckham, and Rihanna as celebrity-turned-designers. Briefly. They're joining Sonia Rykiel's Generous Sweaters campaign along with Sofia Boutella, architect Kazuyo Sejima, model Langley Fox, model Liya Kebede, and artistic director Sue-Jin Kang. Each of them will design a sweater or two to celebrate the 50th anniversary of Sonia Rykiel, and each sweater will benefit a charity chosen by the new designer.
The collection is varied, and the sweaters are personal to each designer. For instance, Dunst's sweater is inspired by her Swedish origins and benefits Planned Parenthood. Sejima's intricate sweater is — naturally — inspired by architecture and took 13 days to complete. Fox's rainbow sweater benefits France's only state-recognized organization that supports young LGBT people.
The Generous Sweaters are only available at 10 Corso Como NY in South Seaport until October 24. Don't worry if you're not going to be in Lower Manhattan before then — they'll be available in Sonia Rykiel stores on November 5. See the full collection below.