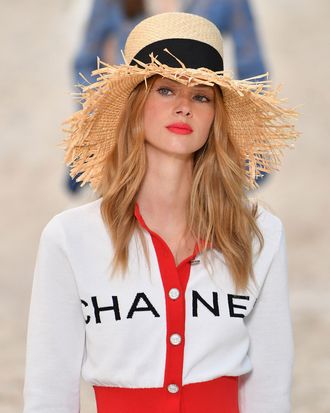 Photo: Pascal Le Segretain/Getty Images
The beach came to Chanel this morning, and it was a #RichBeach — at least according to hairstylist Sam McKnight. His beach hair was "inspired by the '70s Mediterranean jet set like Bardot, Birkin, and Schneider," making it the perfect complement to the Chanel by the Sea's runway, which was actually a man-made beach complete with lapping waves.
To simulate sea-side vibes indoors, McKnight tailored models' hairstyles to their texture. It wasn't all just beach waves. Models with straight hair got one of two styles: Loose waves prepped with his Modern Hairspray or the half-up-half-down treatment paired with a ribbon and logo barrette. Models with natural hair got protective cornrows, double CC clasps, and black silk ribbons. Each look was finished with either a blast of his Cool Girl texture spray, moisture balm, or sea salt spray, and sometimes, a straw hat.
Beachy hair is all fine and good but wearing makeup to the beach is often a source of contention. Chanel Beauty's global creative makeup and color designer Lucia Pica's vision of the Chanel Beach Girl, however, kind of makes me want to do it. Pica envisioned the CBG as "fresh and joyful," as one would probably be given the opportunity to strut in Grand Palais sand. To capture this feeling in makeup form, Pica applied three layers of Chanel Rouge Allure Velvet in Infra Rose (the "absolute color of the spring," she tells Elle U.K.) on each model.
Another secret to looking like a Chanel Beach Girl is ample use of a to-be-released Chanel product called Baume Essentiel Transparent, a magical clear stick that gives anything you put on your face that dewy look. With the help of makeup brushes, Pica used it to highlight the face and to layer over silver eye shadow for glossy looking lids. Finally, she loaded the top and bottom lashes with a lot of mascara to open up the eyes (important if you forget sunglasses). Pair your rich beachy hair and rich beach makeup with two cross-body bags, CHA-NEL earrings, and tweed and you're good to pose by a pool.