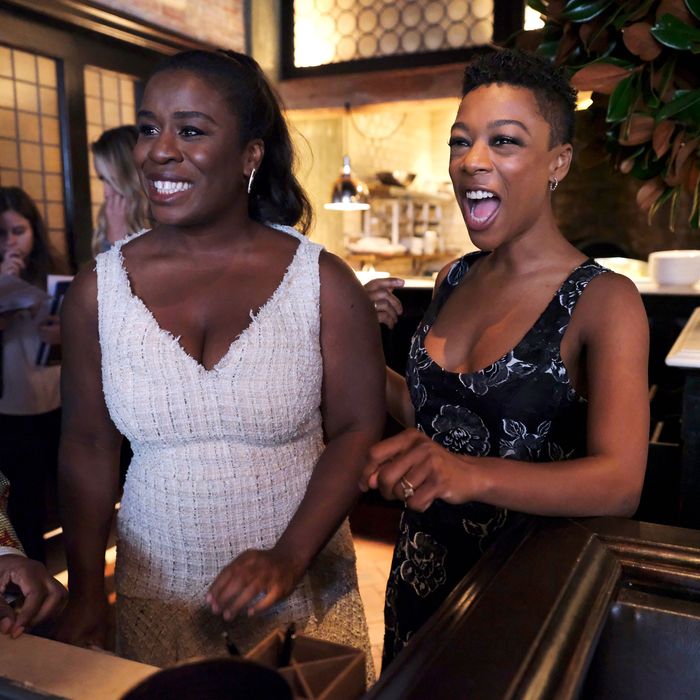 Uzo Aduba and Samira Wiley at Through Her Lens: The Tribeca Chanel Women's Filmmaker Program Annual Luncheon.
Photo: Dimitrios Kambouris/WireImage/Getty Images
The amount of talent in the dining room at Tribeca's Locanda Verde on Tuesday was difficult to fathom. Samira Wiley, Uzo Aduba, Kathryn Bigelow, and Katie Holmes — along with a handful of female producers, executives, writers, and directors — gathered for a luncheon kicking off the fourth year of Through Her Lens, a mentorship program for women filmmakers hosted by Chanel and the company behind the Tribeca Film Festival. The program selects ten emerging female filmmakers among a pool of applicants, granting each finalist funding for her work and mentoring from industry leaders. Bigelow, Courteney Cox, and cinematographer Rachel Morrison (the first woman ever nominated for an Academy Award for Best Cinematography) are among this year's mentors.
Guests sipped Bellinis and mingled while munching on spoonfuls of tuna tartare, many wearing Chanel tweed jackets apropos for the newly crisp fall weather. "Now, more than ever, it's important that we garner our forces, and that we join hands as women and stick up for each other," Zosia Mamet, of Girls fame, told the Cut. "It's obvious that we're being attacked and disbelieved and marginalized in different mediums and different walks of life. We have to be loud, and we're obviously louder together."
"I normally don't do lunches — I generally eat Hale and Hearty on my keyboard," said writer and actress Jill Kargman, of Bravo's Odd Mom Out. She paused to coo at Rachel Morrison's 7-week-old baby, cradled in a front-facing sling. "But for this I make an exception, because it's such a celebratory safe zone. Last year, this event was the day after the Harvey Weinstein scandal broke in the New York Times. This is part of the Greenwich Hotel, where he assaulted people upstairs. So, to me, this is like the female Stonewall."
While guests nibbled on appetizers, Jane Rosenthal and Paula Weinstein, the heads of Tribeca Enterprises, gave speeches on the importance of female-driven filmmaking. "There's a sense of inclusivity that we have now that we didn't have in the '70s," Weinstein said, tearing up. "And that we have to do it again. Changing the narrator is changing the narrative."