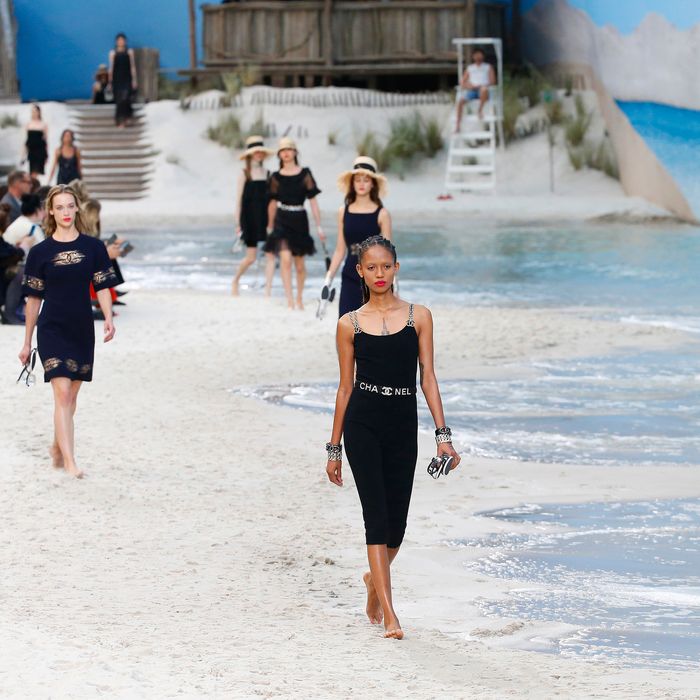 Chanel's beach.
Photo: Estrop/Getty Images
Chanel and designer Karl Lagerfeld have staged some pretty crazy runway shows in the past. There was the supermarket, the rocket ship, and the waterfall, all staged in the Grand Palais. This time around, though, the venue was almost unrecognizable. It had been turned into a beach with real sand and lapping waves. Seriously. Waves. Nobody can stage a show quite like Chanel.
Completing the beach scene were lifeguards stationed among the crowd and Pamela Anderson in a Chanel suit (she sat next to Pharrell in the front row). The models came out, walked across the sand holding their shoes, and slipped into their slides before walking along the wooden "deck."
The collection was fun and surprisingly beach-friendly for a brand that is famous for tweed. There were many thatched hats embroidered with "Chanel," colorful prints that look like beach umbrellas, bags that looked like beach balls, and bike shorts (paired with a blazer). Many models wore two cross-body bags at once, one on each side. Models Kaia Gerber and Adwoa Aboah appeared among the cast members, who finished out the show by frolicking in the sand. What a carefree way to celebrate the end of fashion month.