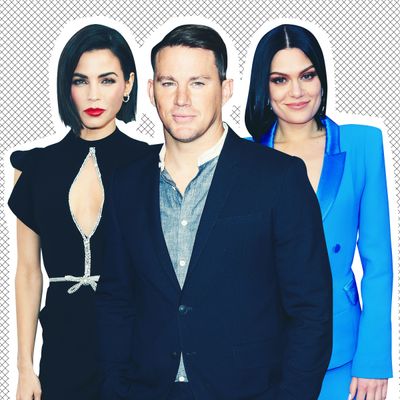 Channing Tatum, 38, is reportedly dating the British singer Jessie J, 30, and guess what: It's been happening for two months and we didn't even know about it. Tatum, who split with his wife of nine years, Jenna Dewan, in April, has been spotted at Jessie J's recent concerts in Seattle and Salt Lake City. Us Weekly reported yesterday that the relationship is "new, casual and they're having fun together."
E! News, God bless it, has more detail. A very chatty source told the site, "They've been hanging out a lot lately and he's excited about seeing her. She's on the road, but he is very interested in getting to know her and doesn't mind tagging along. He's making a lot of effort and wants to spend as much time with her as he can. He's having fun with it and seeing where it goes. He's known her for awhile and always thought she was very talented."
The real report on the relationship, however, comes from Twitter user @mpower172, who spotted Tatum and Jessie J on a mini golf date last week.
So far, neither party has confirmed the relationship. Dewan, meanwhile, is signaling via Instagram that she is just fine.
That's Stacy Keibler, by the way — you may remember her as George Clooney's girlfriend from the years 2011 to 2013. Keibler reportedly ended things with Clooney in July 2013 because he didn't want to get married or have a family. Then, less than a year later, Clooney proposed to his now-wife, Amal Clooney. Thank GOD for girlfriends!
In Ben Affleck news, Ben Affleck has reportedly broken up with 22-year-old Playboy model Shauna Sexton. The two have been casually dating for the past two months, in the midst of Affleck's unfortunately public relapse and rehab stay. Just this past weekend, Affleck took Sexton to one of his favorite vacation spots: Big Sky, Montana. While there, she posted an Instagram Story of him looking at an elk and a photo of herself holding a fish:
And now, apparently they're done. A "friend of Affleck's" offered this ice-cold statement to People earlier this week: "There was nothing to split from as it has been casual."
At least, as Celebitchy notes, Sexton got 80,000 Instagram followers out of all of this.
Dakota Johnson is not pregnant with boyfriend Chris Martin, despite the fact that she released a bunch of blue balloons into the air at a party in L.A. this past weekend. TMZ reported that the party, which was attended by Johnson's parents Melanie Griffith and Don Johnson, Julia Roberts, and Sean Penn, among others, was a "gender reveal party." But Johnson's rep quickly denied the report and said it was just a birthday celebration. (Johnson was born on October 4 — a Libra.)
Martin, of course, already has two kids with his ex-wife Gwyneth Paltrow: Apple, 14, and Moses, 12. Paltrow got married to Glee producer Brad Falchuk at the end of last month.
Though TMZ misreported Johnson's party, the site did get one real scoop this week: Selena Gomez is back in a psychiatric facility after suffering an "emotional breakdown" brought on by complications from lupus. TMZ reported yesterday that Gomez was hospitalized at Cedars Sinai in L.A. twice in the last two weeks for a low white blood cell count, and that she has been experiencing a "downward emotional spiral." Now, she's receiving Dialectical Behavioral Therapy (DBT) at an undisclosed East Coast facility. (Gomez checked into luxury rehab center Swiss-Prive in Connecticut earlier this year, and she spent spent time at the Brookhaven Retreat in Tennessee in 2016 and The Meadows in Arizona in 2014.)
Gomez's ex-boyfriend Justin Bieber, who is now married to Hailey Baldwin, doesn't seem to be taking the news well. He was photographed leaning on church friends outside of Hillsong in Beverly Hills last night.
One small blessing from this week:
Katie Holmes is ready for fall. (It was 74 degrees in New York yesterday.)
Finally, I'll leave you with this engaging New York Times profile of Neri Oxman, the architect and M.I.T. superstar professor who was rumored to be dating Brad Pitt back in April. She told the Times, "emphatically," that she is not involved with Pitt, and that she is actually dating billionaire contrarian hedge funder Bill Ackman. (Ackman announced that the two are engaged at an investor conference in New York on Tuesday.) Poor Brad!
Not to worry, though: Pitt's PR team is hard at work setting him up with somebody else. Pitt's go-to tabloid People exclusively reported yesterday that he is "very close" to a spiritual healer named Sat Hari Khalsa. You can see photos of Pitt and Khalsa talking to each other at a benefit in L.A. here.
Thanks so much for gossiping, and don't forget to send me a message on Twitter, or contact me on Signal, if you'd like to chat.