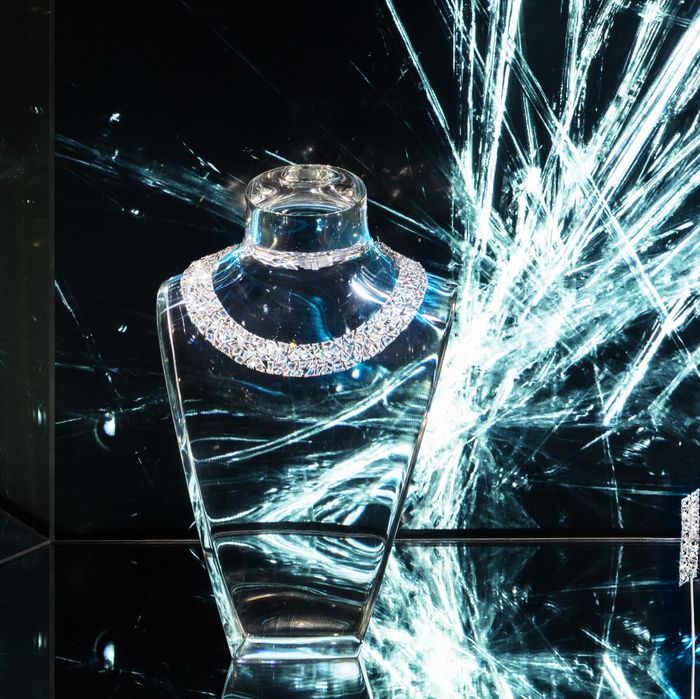 Photo: Courtesy of Tiffany & Co
It's still 80 degrees in this New York City October, but the new Tiffany & Co. Blue Book Collection and its accompanying window displays remind me of what it's like to experience the seasons again. Unveiled this week to the public, the collection's theme is "Examination of Nature," and it's a delightful marriage of science, nature, and beautiful, luxury jewelry.
"Nature has been a longtime source of inspiration for Tiffany," said Richard Moore, vice-president, global store design and creative visual marketing for Tiffany. "For the 2018 Blue Book Collection windows, we partnered with artists and scientists to present the high jewelry pieces in an exciting new way, using their knowledge of the natural world in dialogue with the collection."
Each window display depicts a different season. Winter features microscopic images of liquid water as it crystallizes into ice. The spring window has hydrangea flowers encased in a block of ice that will gradually melt. NASA images of coronal mass ejections — an event where the sun spits out highly-charged particles that can cause the northern lights in our skies — grace the summer window. And illuminated blown-glass crystal spheres cast lovely shadows and circular patterns in the fall window display.
A fifth window was inspired by the honeybee and its hexagonal honeycomb — the backdrop in that display is a spectrogram, a visual display of the sound frequency of a honeybee's wings.
The accompanying collection is available in Tiffany stores with prices upon request. Scroll down to view some of the pieces.