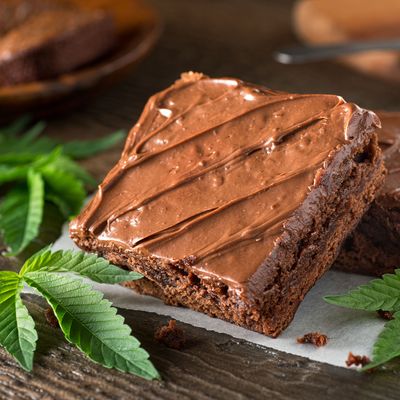 Weed brownies.
Photo: David Kadlec/Getty Images/iStockphoto
A high-school cheerleader in Michigan is being investigated by police officers after possibly giving out pot brownies to classmates in exchange for homecoming queen votes. The unnamed teen reportedly put a dozen brownies into goodie bags for the football team at Hartford High School on September 26.
According to CBS affiliate WWMT, students were in an "uproar" over the incident, and parents contacted the school concerned for their children's safety.
"What if one of those would have gotten in the wrong hands," Hartford parent Angel Avery said to WWMT. "What if one of those were given to a kid who had a reaction to it. So many worse things could have happened than what did."
Her daughter texted her telling her about the cheerleader who brought the brownies to school. Local police were contacted by both the school and their anonymous tip line, and are investigating.
"You always think you've heard it all and seen it all, and there is always something new to surprise you," said investigating Hartford police officer Michael Prince. "We are investigating two things: number one, some were put in goody bags for players. Also, they were used to obtain votes for the queen contest."
It is unknown how many votes the cheerleader was able to get via her pot brownie bribes, or if this stunt will disqualify her from being part of the upcoming homecoming parade. Even if she's not crowned as queen, she definitely wins the prize for the most dedicated candidate.