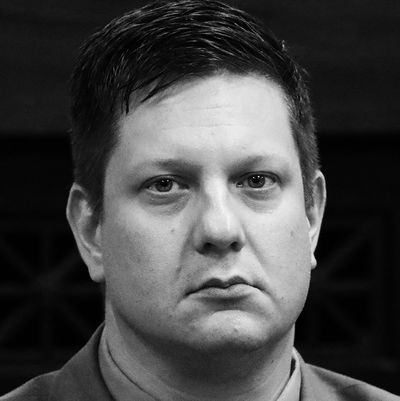 Jason Van Dyke.
Photo: Antonio Perez/Getty Images
Four years after Chicago police officer Jason Van Dyke shot and killed 17-year-old Laquan McDonald, a jury found him guilty of second-degree murder on Friday.
In October 2014, Van Dyke, a white officer, fired 16 shots into the black teenager as he appeared to be walking away from the officers — a brutal murder that was captured on dashcam video footage, which was released by court order in 2015. When the public viewed the grainy video on November 24, 2015, Chicago erupted in protest. Van Dyke was arrested the same day.
Van Dyke pleaded not guilty to charges of first-degree murder, official misconduct, and 16 counts of aggravated battery for each shot fired on the second day of deliberation. The white officer was found guilty of second-degree murder and all 16 counts of aggravated battery, but not guilty of official misconduct. (On Thursday, jurors were told that they could either find Van Dyke guilty of first- or second-degree murder.)
Van Dyke encountered McDonald in 2014 after a 911 call alerted police to someone who was breaking into vehicles. Speaking to the jury during deliberations, assistant special prosecutor Jody Gleason said that Van Dyke shot McDonald within six seconds of arriving on the scene.
Van Dyke is the first Chicago police officer to be found guilty of murder during an on-duty shooting in half a century, the Chicago Tribune reports, and following Van Dyke's conviction, anti-police-brutality activists and the Chicago community celebrated the historic day.
"It feels like a victory for black Chicago," activist Jedidiah Brown told reporters, a message that the senior adviser to Reverend Jesse Jackson echoed.
"This is historic for Chicago and historic for these kinds of police misconduct cases," Janette Wilson told the Tribune. "The jury did what it could with the evidence that was presented to them. Jason Van Dyke is finally in custody and we are grateful. We don't need Rambo cops on the street shooting kids."
Police superintendent Eddie Johnson and Mayor Rahm Emanuel released a joint statement following the verdict, reading, "the effort to drive lasting reform and build bonds of trust between residents and police must carry on with vigor." Many slammed the statement, as Emanuel has been accused of covering up the incriminating dashcam video footage. (On September 4, after his handling of the police shooting came to define his second mayoral term, Emanuel announced that he would not seek reelection.)
"You literally tried to coverup the video," civil-rights activist Johnette Elzie tweeted. "Be quiet."
Van Dyke's bond has been revoked, and his sentencing is scheduled for October 31. He faces a minimum of six years in prison.