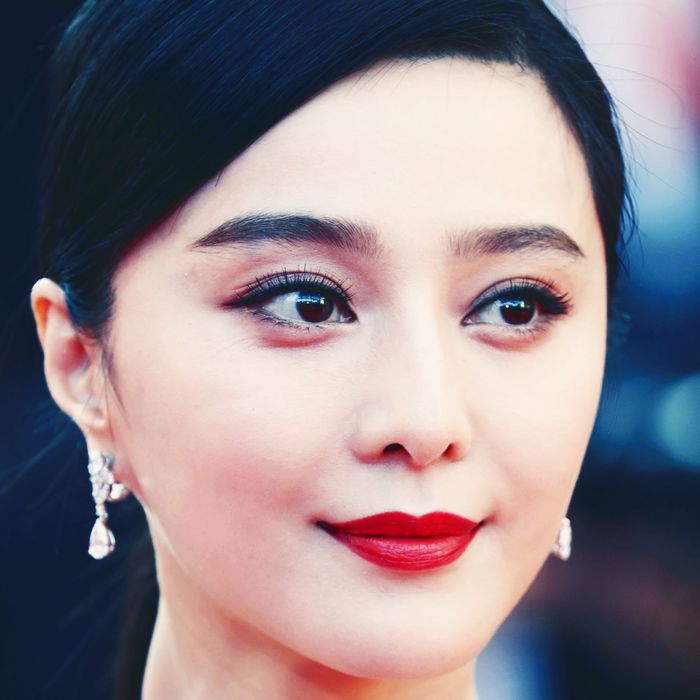 Fan Bingbing.
Photo: Tristan Fewings/Getty Images
In early September, The Hollywood Reporter wrote about the mysterious case of Fan Bingbing, who had spontaneously gone missing from the public. China's highest-paid actress, most famous in the U.S. for her role as Blink in the X-Men franchise — and set to star alongside Jessica Chastain and Lupita Nyong'o in the upcoming thriller 355 — was unable to be located for months, completely wiping her social media. Fan's disappearance has been shrouded in mystery, with fans speculating that she's been taken under the custody of the Chinese government, or that she's fled to L.A. seeking asylum.
On Wednesday, Chinese state media reported that the actress has been fined for tax evasion — the first real news released about Fan since her disappearance. She has been hit with fees of nearly $130 million, accused of using "ying-yang contracts" to avoid paying taxes on the entirety of her paycheck, according to CNN. In her first social-media post since the disappearance, Fan admitted the allegations are true, saying she has "accepted" the tax charges and has "failed my country which nurtured me."
A new report from the South China Morning Post may provide an answer to the question of where Fan has been all this time; its unnamed sources say Fan was released two weeks ago from a "residential surveillance at a designated location" in the province of Jiangsu, where government officials have previously been held for investigation.
For context, here's what else we know about the case so far.
How did we get here?
Amid the steady growth of the film industry in China, its government has repeatedly cracked down on top actors, aiming to temper high salaries and lavish lifestyles that supposedly corrupt the country's youth. One of the ways in which film regulators do this is by imposing heavy taxes on high earners.
In July, a TV host leaked documents revealing that a major celebrity had allegedly dodged taxes, and the internet instantly gathered evidence to suggest it was Fan — China's highest-paid actress. The report detailed a scheme involving "yin-yang contracting," a commonplace but very illegal practice in which production companies give actors two pay contracts: In addition to their true (hefty) paycheck, they're given a smaller one to submit to tax authorities. According to the leaked docs, Fan tried to claim $1.56 million, or 10 million in Chinese yuan, for four days of work on an upcoming Chinese film, when she was actually paid an additional $7.8 million — RMB 50 million.
The Chinese government is now saying that because Fan is allegedly a first-time offender, no criminal charges will be filed against her if she pays the fees by an undisclosed deadline.
Is it true?
In a letter posted on her Weibo account — her first social-media activity in months, shared shortly after the news reported her tax-evasion charges — Fan admitted to her 61 million followers that the allegations are true and that she "totally accepted" the fines. "As a public figure, I should have abided by laws and regulations, and been a role model in the industry and society," she wrote. "I shouldn't have lost self-restraint or become lax in managing (my companies), which led to the violation of laws, in the name of economic interests."
"I failed my country which nurtured me; I failed the society which trusted me; I failed the fans who liked me," she added. "Without the Party and the state's good policies, without the love from the people, there would have been no Fan Bingbing."
Before Fan spoke out on social media, her representatives adamantly denied the allegations, hiring a Beijing law firm to investigate, though the Chinese government reportedly launched its own series of investigations. Her sudden and ongoing disappearance from social media spurred reports in Hong Kong tabloids that the government had issued her a three-year ban from acting. Her name has also reportedly been wiped from promos for her upcoming war film, Unbreakable Spirit, with Bruce Willis and Adrien Brody.
Ever since the scandal broke, authorities have increasingly cracked down on the issue, prompting production companies to sign a joint pledge to abide by the laws. "Imagine if Trump cut the pay of Beyoncé, Kobe Bryant, and Tom Cruise," one film executive wrote in a private post to followers on WeChat, China's top messaging app. "Soon there would be a lot less cultural output from Hollywood and fewer revenue for the government to tax."
Meanwhile, Fan Bingbing is — to the public's knowledge — nowhere to be found.
Where might she be?
On August 31, Apple Daily, a notoriously suspect Hong Kong tabloid, reported that the actress was in a Los Angeles immigration office, writing that she had taken the advice of Jackie Chan to seek asylum in the U.S. Fan's reps say those reports are "nonsense."
In early September, a state-run Chinese publication called Securities Daily reported that Fan has been placed "under control" by the government, and that she would "accept the legal decision." The story quickly went viral, before it was removed hours later with no explanation.
The story was further complicated when the Chinese Academy of Social Sciences published a report ranking the social responsibility of 100 of China's biggest stars. Fan came in at dead last, earning a score of zero percent. The piece is undoubtedly a work of political propaganda, but it has been picked up by several of China's state-owned news outlets, prompting further headaches for the actress's PR team.
A new report from the South China Morning Post alleges that Fan is in a "residential surveillance at a designated location," which one unnamed source described as a "holiday resort." It is reportedly located in the coastal province of Jiangsu, where historically government officials have been held for investigation. According to the report, Fan returned to Beijing after she was released, but there has been no word on whether she will have to undergo further surveillance.
According to CNN, Fan's case was clearly designed as a warning to other high-profile celebrities, since the government has been increasingly cracking down on tax evasion in the entertainment industry. Authorities warned that individuals who don't pay back taxes by the end of the year could face criminal charges.
This post has been updated with new information.