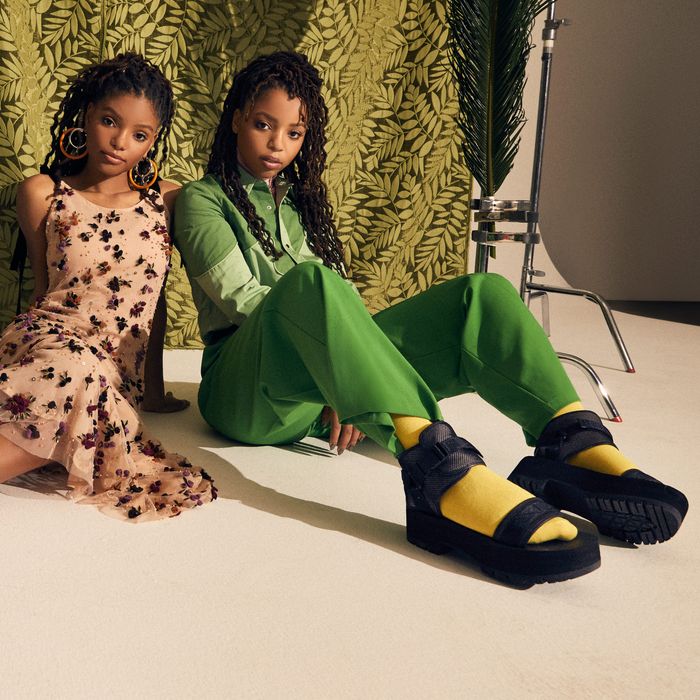 Chloe x Halle.
Photo: Courtesy of Teva
We are lucky enough to be living in the Teva-ssaince. While the shoes have been quietly making a comeback for several years, this year they're really blowing up. And Chloe and Halle Bailey, the extremely cool teens who are on tour with their mentor Beyoncé, have partnered with the brand to show off their favorites from Teva's fall collection.
The capsule collection, 'Worn by Chloe x Halle,' is described as "rocker chic" and includes velvet and glittery Tevas. And yes, they've been wearing the shoes on tour (just not in concert, yet). The imagery for the collection also serves up some style inspiration. I never knew how cool a kelly-green suit could look with yellow socks and black platform Teva heels until now.
The Indio Jewell, one of Chloe's favorites, is their choice for post-concert attire. She told the Cut, it's for "when we still want to look elevated with our jeans, but still be comfortable." The glittery Indio Whip has inspired Halle to be "done with all other shoes." Can't beat that endorsement. Shop their favorites below.
If you buy something through our links, New York may earn an affiliate commission.