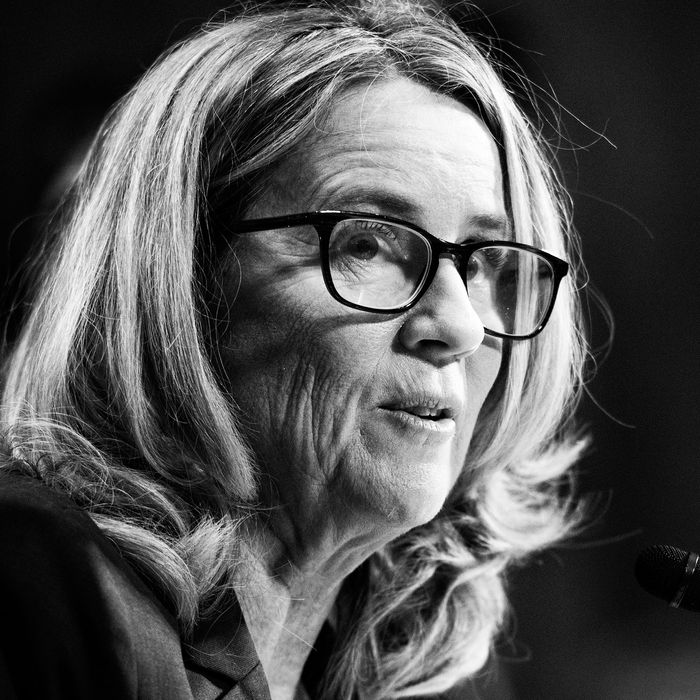 Christine Blasey Ford.
Photo: Pool/Getty Images
Last month, during the Senate Judiciary Committee's hearing into sexual-assault allegations against then–Supreme Court nominee Brett Kavanaugh, his accuser Christine Blasey Ford said she could still clearly remember hearing Kavanaugh and his alleged accomplice Mark Judge laughing at her during the assault. "Indelible in the hippocampus is the laughter …" she said at the time, her voice cracking. "The uproarious laughter between the two. They're having fun at my expense."
On Monday morning, her words were spray-painted on the entrance of Kavanaugh's alma mater, Yale Law School.
Ford, a professor of psychology at Palo Alto University, has said that Kavanaugh sexually assaulted her at a high-school party in Maryland when they were both teenagers, and that Judge was in the room while the assault took place. Kavanaugh has forcefully denied her allegations. And shortly after Ford's story emerged, Kavanaugh's former Yale classmate Deborah Ramirez told the New Yorker that he exposed himself to her at a college dorm party (which Kavanaugh also denied).
In response to the allegations against Kavanaugh, signs protesting the then-nominee began to appear on the Yale campus. Soon after, Yale Law School students organized a sit-in to protest his nomination in the U.S. Capitol. Furthermore, 250 law professors — including several affiliated with Yale Law School — signed a letter protesting the nomination. Of course, at the end of the day, Kavanaugh was still confirmed to his position.
However, the protests at Yale continue to wage on, as apparent by the graffiti of Ford's words — though it has already been removed, according to a tweet from someone on campus.
Laurel Raymond, a Yale Law student who shared a photo of the message this morning, told HuffPost that her classmates have been "demanding better" since the hearings, papering the hallways of the institution with fliers.
"But this is different. Something about the permanence of paint speaks to how deeply betrayed and disappointed people feel," she said. "There's still a lot of anger and disappointment in the halls of [Yale Law]. I think in particular, a lot of female students feel very fundamentally betrayed. But also very determined to change things for the better."