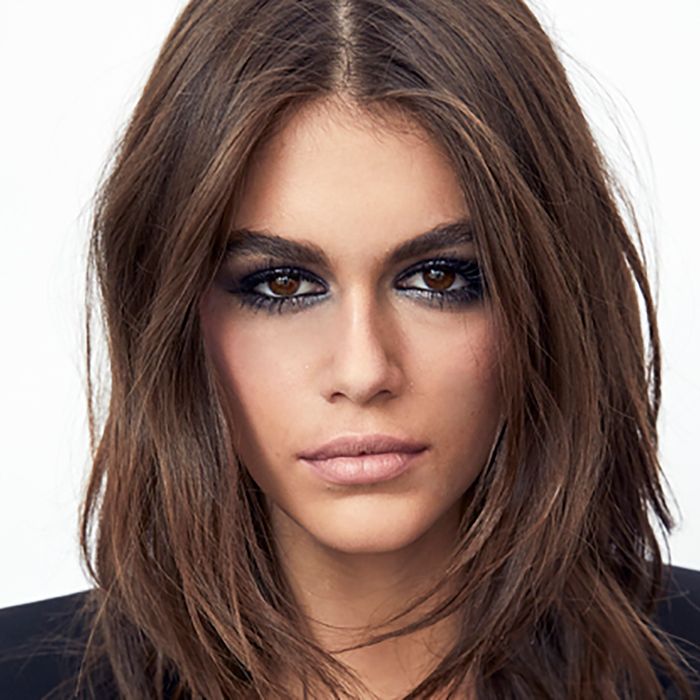 Kaia Gerber.
Photo: Courtesy of Women's Wear Daily
Do you ever catch yourself doing something and immediately think, "Whoa, I'm turning into my mother?" Usually it's something innocuous like realizing that you also have a tendency to whistle while you unload the dishwasher. For Kaia Gerber, the 17-year-old daughter of Cindy Crawford, she is turning into her mother by making it big as a model: Gerber was just named the new ambassador for YSL Beauté. (Honestly, it's pretty similar to the whistling thing.)
Gerber has been modeling for a pretty long time for someone who isn't even 18 yet. She appeared in an ad for Young Versace when she was 10 and landed her first cover at 14: a joint appearance on the cover of Vogue Paris alongside her mom. She has been in campaigns for Alexander Wang, Miu Miu, and Marc Jacobs, and made her runway debut at New York Fashion Week last year, and just rocked some pretty exceptional eyeliner for Valentino at Paris Fashion Week. She's excited about the opportunity to be an ambassador for YSL Beauté: "I really hope to be able to create positive images and messages that inspire others to feel confident about the way they look, to look after themselves, and basically be kind to themselves."
Her first campaign will be for Rouge Volupté Shine moisturizing lipstick, which will debut in January. From there she'll appear in ads for cult favorite Touche Éclat and Mascara Volume Effet Faux Cils. It seems that the fashion world truly is Kaia Gerber's oyster, and #proudmama probably doesn't even begin to cover all of Cindy's #feels.