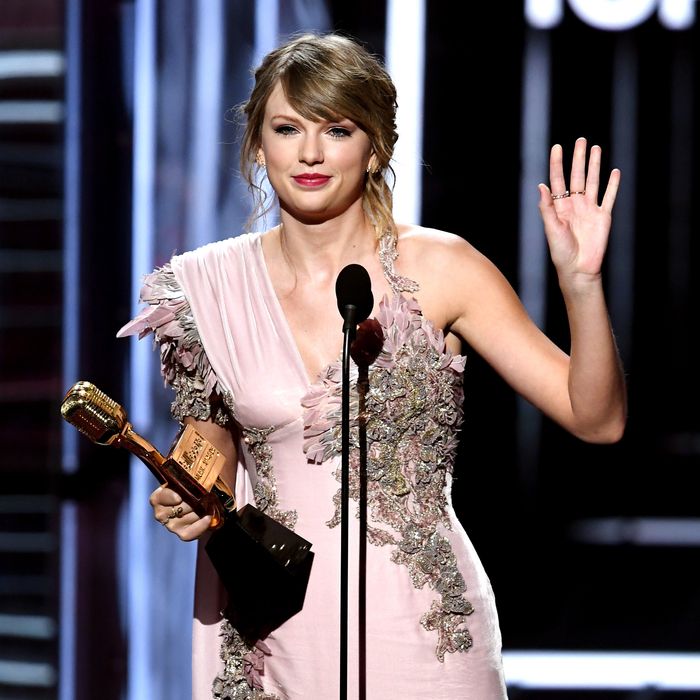 Taylor Swift.
Photo: Kevin Winter/Getty Images
Taylor Swift announced her political beliefs in an Instagram post for the first time, to denounce Republican congresswoman Marsha Blackburn. Swift wrote that she found Blackburn's voting record to be atrocious and would be voting for Democratic candidate Phil Bredesen for the Tennessee congressional race.
Her support of a Democratic candidate upended the suspicion, or hope, that Taylor Swift was a card-carrying Republican — to the dismay of young conservative men. The Daily Beast reported that users in conservative chats on 4chan were posting that Swift's endorsement of Bredesen was "traitorous." Memes of Taylor Swift burning were also posted to the site.
Charlie Kirk, the founder of conservative organization Turning Point USA, went on Fox & Friends said that Swift "should stay away from politics." He also asserted that she didn't write her own Instagram post caption, where she clearly outlined her political beliefs and her reasoning for supporting Phil Bredesen. Kirke then said that Swift should actually learn about Marsha Blackburn's record in Congress, and that Swift probably "got some very bad information."
Meanwhile, Phil Bredesen, the candidate Swift endorsed, posted to Twitter thanking her for her support. "I'm honored to have your support and that of so many Tennesseans who are ready to put aside the partisan shouting and get things done," he wrote. "We're ready for it."