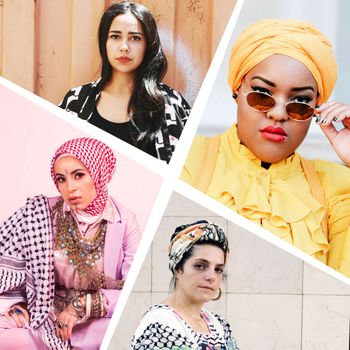 Photo: Kate Dyomina, June Canedo, Feda Eid, Lani Trock.
Until now, no major museum in the world has dedicated space to exploring the full scope of Muslim women's fashion. "Contemporary Muslim Fashions," on view at the de Young Museum in San Francisco until January 6, is the first exhibit to do so, aiming to challenge stereotypes about Muslim culture while showcasing a richly diverse, global range of styles. While some of the mannequins wear hijabs, others don't, and each hijab is styled differently to reflect the many ways a woman might choose to wear one depending on her culture and religious principles: covering her face entirely, for example, or wearing a hijab with jeans.
Also on display are burkas and abayas (both loose-fitting garments that cover a woman from head-to-toe), Nike's first-ever professional sports hijab, streetwear by Sarah Elenany, and couture gowns by Karl Lagerfeld and Jean Paul Gaultier. To ensure the museum fully represented Muslim fashion, co-curators Jill D'Alessandro and Laura Camerlengo worked with a modest-fashion expert, professor Reina Lewis — as well as an international advisory committee and 75 representatives from San Francisco's Islamic community centers, mosques, and local universities. Together they selected emerging and established designers, bloggers, activists, and photographers who explore how style functions as part of a Muslim woman's identity.
The Cut interviewed seven women whose work is featured in the exhibit, asking what the show means to them and their thoughts on Muslim representation in fashion and media.
Leah Vernon, Body-Positive Activist/Model
When people look at me, they see a fat, black woman with a hijab on or a turban on. They don't see a Muslim woman, which definitely bothers me, because I'm just as Muslim as my Arabic or white-passing counterparts. When Muslim women are usually shown in the media and in art, it's always that stereotypical, white-passing, thin or Arabic-looking woman, right? They'll never show African, or dark-skinned Indian or Latino women as the face of Islam.
So it feels amazing that such a great, large institution is showing the other side, the other face of what Islam is, what being a hijabi is, what being a Muslim is. The conversation is being started that there are so many other types of Muslims that need to see their narratives — so all the little black girls will be like: Oh wow, I'm being represented in this community as well. It feels amazing that recognition is happening, that it's opening the narrative about what it is to be an American Muslim.
Mona Haydar, Rapper
Muslim women's bodies in the media often "belong" to someone else. I am grateful for what this exhibit is attempting to do: to show that Muslim women, along with their powerful fashions, are beings of great agency, intellect, and of course style. It means a lot for me as a Muslim woman to have my music video Hijabi (Wrap My Hijab) in the exhibit, especially because in the video I am 8.5 months pregnant, and that is definitely a non-standard body according to the aesthetics of the conventional mainstream music industry.
I really hope for more opportunities where Muslim women can turn up and enjoy life without the input of the male gaze, and I feel like this [exhibit] is a really great step toward that — especially since it was all curated by women at the de Young. I hope also for the opportunity to go beyond talking about just what we wear too, of course. There is already so much emphasis in the world on what we, as women, wear or don't wear. I'm really interested in pushing the envelope beyond that so we can start talking about the ways in which we are busy being beings of inner beauty, and how we are crafting and growing that inner beauty too.
Faiza Bougessa, Designer
I took my mother with me [to see the exhibit], because she also wanted to be a fashion designer when she was young. For me it's quite a milestone, I have to say. When I started my line five years ago, I really wanted to make sure that it's not just to do fashion, but also to help women feel more confident, to help them express themselves and their style just like anyone else. Going to the exhibition and noticing that is something celebrated today is really amazing.
It's important that you don't just see the modest aspect of what I do. It's more inclusive, trying to think of all women and not just women who dress modestly.
Nzinga Knight, Designer
One of my goals and intentions as a designer is to have this clothing add beauty to women's lives. Design is about problem solving. My designs check a lot of boxes for people. It's beautiful, it feels good, and it covers a woman in a variety of ways that she would like to be covered. Even the Twareg dress is a modular dress. It has this front drape that can flow to the back or it can be converted into a hijab.
I'm always happy for my work to be seen at museums — not just in stores but also where it can be appreciated for being a work of art. That feels great. As a Muslim woman, it's hard to say how I feel about being featured in the exhibit. I can say it as myself, as a designer. Being Muslim helps to create design parameters within my work in adherence to modest principles in Islam. But it always comes back to the design. All of my identity is tied to what I do, but I am in fashion because I'm a creative person, and because I'm a professional. I really do create gowns that are inspired by what I'm interested in: clean lines, architecture, beauty, and flow. And a kind of minimalism that's inspiring and feminine.
Celine Semaan Vernon, Designer
Just walking around the exhibition on opening night, being surrounded by women from the Middle East and Southeast Asia was such a beautiful experience, I can't even tell you. There were some princesses there from Saudi Arabia, from Jordan. They were draped in their beautiful traditional wear, wearing their long gowns, intricate embroidery — smelling like embers, smelling like the Middle East. I recognized it and I was feeling very overwhelmed. I've been traveling my whole life and I have always been struggling with the notion of home or feeling at home, feeling like I belong somewhere, and this rare moment I felt like: Wow, I am with my people.
I am always mistaken for being Muslim because I'm Lebanese — only in America, actually. In my personal experience, being a Christian Arab, you are always not enough. You don't belong anywhere. You don't belong with the Europeans, you don't belong with the Americans, and you don't belong with your own kind because you're different. We've been persecuted and isolated throughout history, and colonized and abused and so on. The fact that right now this exhibition has included people like me is important because we are not separating one another anymore. In any case, I'm going through the same prejudice as my Muslim peers, you know?
It was a bit awkward — the fact that I'm not Muslim, but that I do come from that part of the world. I was confused. [I thought,] Should I let [the museum] know? Did they overlook this point? Did they not know or did they know? I didn't want put any words in their mouth or presume anything. But then later when I went to the exhibition, I saw that there were other Lebanese Christians exhibited. Other groups who are not necessarily Muslim were also showing their work there. I felt that the curators were purposefully including voices from the regions that they wanted to shine a light on, and including us not simply because of our religious background but for our message. It's a rare feeling, to feel included.
Rania Matar, Photographer
I'm not Muslim but I photograph in the Middle East, and it was an honor to have my work there. I was born and raised in Lebanon, which is different from many other countries in that it's multi-confessional.
You see women wearing the hijab with very tight jeans there, and I love that some of the layers of this were expressed in the exhibit. Often people tend to think of the burka like the kind you see in Afghanistan [fully covered] but there's so much more than that. This is something that is lacking in [American] understanding. Some women wear it because they want to and wear it as an accessory, not because they have to. Even the average person who [doesn't work in] fashion or design will wear a pink veil and layer it, or wear it to match their clothes.
You can wear the veil and still care about what you look like and be pretty, and express your sense of identity. I think the exhibition brought that kind of awareness.
Alaa Balkhy, Designer
I didn't know it was going to be this big. My work has always been in boutiques and commercial spaces — because it's commercial — but seeing it with other amazing designers, it's surreal. I'm from Saudi Arabia and it's a small circle of artists and designers. But people take you more seriously when you've done something in the States, just because it's the center of the world.
I don't know about the labeling. My being Muslim makes absolutely no difference. It feels normal. Part of it is because I grew up [in Saudi Arabia] around people who are exactly like me, so I never faced the feeling that I was different in terms of religion. But now I've been in the States for six years and that's when I realized: Oh. Everyone is different here. I understand that Muslim Americans feel like it's about time [that they're getting representation]. It's amazing. But for me, I don't think I felt the same way they felt. For me it's just like: This should happen. This should be normal. This shouldn't be like: Oh, I can't believe this is happening. This should be like: Well, you know, it's about time.
These interviews have been edited and condensed for clarity.