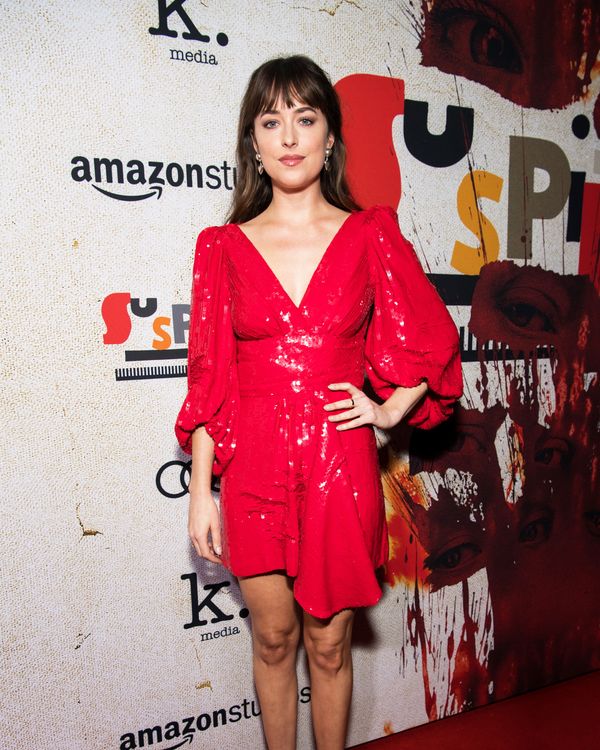 Dakota Johnson wearing Celine.
Photo: Emma McIntyre/Getty Images
Lady Gaga was the first person to wear Hedi Slimane's designs for Celine back in August — before he changed the brand's logo and made his (controversial, much-discussed) runway debut at Paris Fashion Week. But on Wednesday, actress Dakota Johnson took the prize for being the first celebrity to wear a look from Slimane's spring 2019 collection on the red carpet. And you know what? She looked bloody good.
We say "bloody" because Johnson wore the red sequined dress to the Hollywood premiere of Suspiria, a very bloody horror film directed by Luca Guadagnino (Call Me by Your Name) that's coming out tomorrow. The film is a remake of the 1977 Italian original about a witchy dance academy–slash–coven in Germany run by Madame Blanc, a Marina Abramovic look-alike played by Tilda Swinton. We'll spare you any spoilers, although this writer closed her eyes for most of it, anyway.
On the Suspiria press tour, each member of the cast — including Jessica Harper, Chloë Grace Moretz, Mia Goth, and tha style god, Tilda Swinton — has been doing her own thing, fashion-wise. Unsurprisingly, Swinton seems particularly inspired by the horror theme. Earlier this month, she wore a blood-red Haider Ackermann ruffled turtleneck dress to the Venice Film Festival. And on Wednesday night, Swinton sported a Schiaparelli blazer with tiny hands for buttons, plus huge hot-pink pants and matching shoes. Mother!
But let's focus on Dakota Johnson for a minute, because wearing Hedi Slimane for Celine is a definitely a "move" right now, considering the collection's mixed reviews. (Tim Blanks, for example, called it a "gust of toxic masculinity" for Business of Fashion in a review titled "A Dark New Dawn at Celine.")
Regardless of the controversy, Johnson looks good. The dress fit a little looser on the runway model, who had a more Slimane-ian build, but it fit Johnson perfectly. It was fancy enough for a premiere, but casual enough for the party after, like someone who will smile and then stab you in the back. This look was also one of the only pops of color on the Celine runway, and the red carpet beneath Johnson looked boring and sad in comparison. The only off note was the alignment of the sequins, which made the dress look a little rumpled.
Ultimately, this Celine dress leaves us feeling the same way we did after seeing Suspiria: deeply unsettled about what constitutes good and bad, and absolutely, positively sure that Dakota Johnson has had sex at least once.