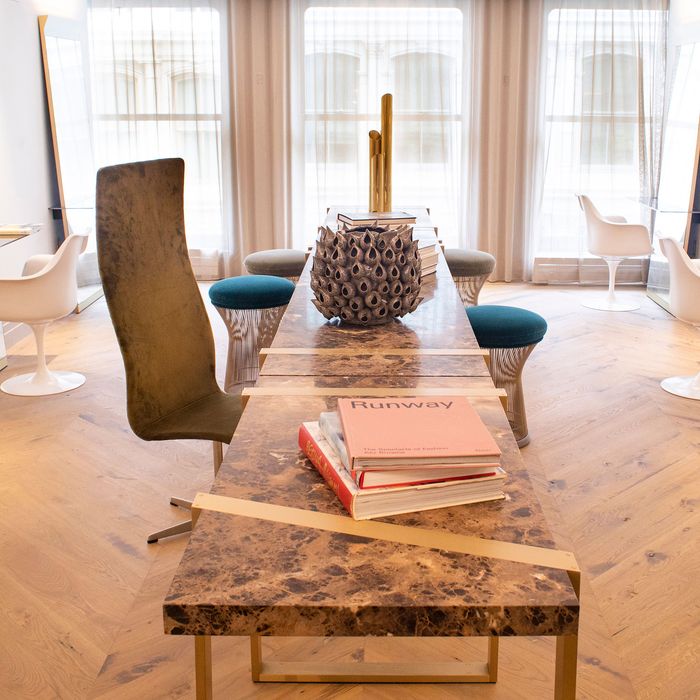 The new David Mallett salon in Soho.
Photo: Courtesy of David Mallett
"French girl" hair from a French hairstylist no longer requires a plane ticket if you live in New York: Natalie Portman's Parisian hairstylist of choice, David Mallett is opening a salon in Soho this month.
Born in Australia, David Mallett is widely regarded as one of the best hairdressers in the world. His clients include some of the most hair-envy inducing celebrities around, like Marion Cotillard and Penélope Cruz. He currently has two salons in Paris, and is opening his first salon in the United States later this month: "My new American adventure won't be a French or Australian project; it will be a global one. A place where people, races, languages are mixed, creating a real journey in the heart of the brand."
There are a lot of fancy offerings at this salon, designed by French architect Charles Zana, including a mesmerizing herringbone wood floor. For example, do you want to get a hair facial? Mallett will be offering the rare service, which involves treating the scalp with a vigorous massage. Just consider that a butt facial or a penis facial (it's not what you think) are totally valid treatments. If you want to get this very intriguing and highly indulgent hair facial or simply want a chance to get your hair cut by someone who is self-described as "quietly obsessed" with hair, this is the place to do it. The Soho salon opens on October 16.