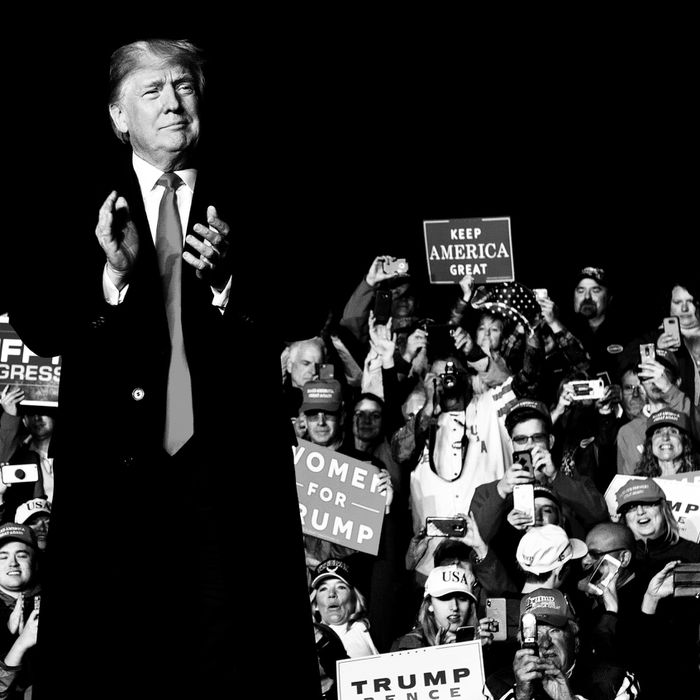 Donald Trump onstage at a campaign rally at Central Wisconsin Airport in Mosinee, Wisconsin.
Photo: SAUL LOEB/AFP/Getty Images
On the same day bombs were discovered in packages addressed to Hillary Clinton and several other top Democrats, supporters of President Donald Trump packed onto the tarmac at Central Wisconsin Airport in Mosinee, Wisconsin began shouting "lock her up" at the mention of Clinton's name.
The rally was part of Trump's national midterm campaign tour to bolster support for Republican candidates. It was during Senate Republican candidate Leah Vukmir's address to the crowd, before Trump's arrival, that the chants began. She paused as the crowd yelled Trump's infamous line several times, before continuing her speech.
When Trump came onstage, he limited his usual attacks on Democrats, and there were no "lock her up" chants during his remarks. He did not mention senators Dianne Feinstein and Nancy Pelosi, nor did he mention Representative Maxine Waters, who was sent three of the seven bombs discovered this week. He instead shaped his speech around what he read from a teleprompter, and asked politicians to "stop treating political opponents as being morally defective." He also asked the media to help unify people.
"The media also has a responsibility to set a civil tone and to stop the endless hostility and constant negative and oftentimes false attacks and stories," said Trump at one point. "They've got to stop. Bring people together."
When Trump did stray from the teleprompter, he spoke about the trade war and the border wall, but limited his scope, relatively speaking — he didn't call Elizabeth Warren "Pocahontas" or declare himself a nationalist, like he did on Monday. "Do you see how nice I'm behaving today?" he asked at one point.
"Have you ever seen this?" Trump said, to cheers and hollers of support from attendees. "We're all behaving very well. And hopefully we can keep it that way. We're gonna keep it that way."