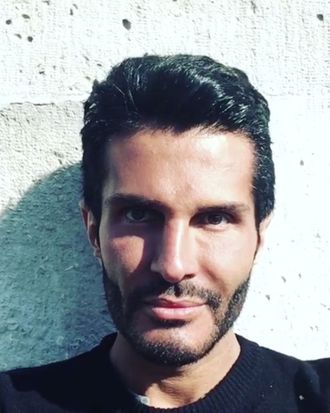 Brandon Truaxe.
Photo: @deciem/Instagram
Just two days after minority investor Estée Lauder hit Deciem founder Brandon Truaxe with a lawsuit over his erratic behavior both on- and offline, an Ontario judge ruled that he is out as CEO, and that he is "forbidden from posting on the retailer's social media channels."
On October 10, Estée Lauder's lawyer Mark Gelowitz emailed Truaxe to inform him that the company had instructed him to "commence injunction proceedings in the Ontario Superior Court of Justice," since Estée Lauder — which owns 28 percent of Deciem — believes Truaxe violated the terms of their shareholder agreement. Lauder sought to bar Truaxe from the company's social-media accounts, remove him as CEO, and appoint Nicola Kilner, the brand's co-CEO in his place.
Per The Canadian Press business journalist Tara Deschamps, Estée Lauder got what they wanted. At the Friday hearing, Truaxe was ousted from Deciem, and the judge ruled that he was "forbidden from posting on the retailer's social media channels and restricted from communicating with employees on an interim basis." The judge also ordered an investigation in Truaxe's claim on October 8 that "almost everyone at Deciem has been involved in a major criminal activity," as requested by Lauder.
Over the past ten months, Estée Lauder has tried to distance itself from Deciem as Truaxe has instigated relentless drama at the company with his questionable presence on the brand's Instagram — where he publicized the company's internal workings, asked for 911 help, and posted multiple photos of garbage piles — and his major firings. While things appeared to have calmed down over at Deciem since co-CEO Nicole Kilner rejoined the company in July, after Truaxe fired her earlier this year, on October 8, Truaxe announced that the company was closing immediately until further notice in an incoherent Instagram video.
In their lawsuit, Lauder claimed that Truaxe's behavior has caused "irreparable harm to Deciem's business, and chaos and confusion for Deciem's employees, customers, consumers, suppliers, landlords and other stakeholders."
"This is not only causing irreparable harm to the Estée Lauder Cosmetics Limited's investment in Deciem, but it is harming Estée Lauder's reputation because Estée Lauder has an equity ownership in, and therefore an association with, Deciem," the court papers read.
While Deciem has been embroiled in drama for nearly a year — and as of this week, is apparently closed — WWD reports that beauty-industry insiders believe Deciem will outlast this PR crisis, as the company reportedly made $300 million in sales over the summer, and consumers are still drawn to the brand's ingredient transparency, affordability, and minimalist aesthetic.
And Deciem could be open as soon as tomorrow. On Friday, Kilner's lawyer told the courtroom that just as Lauder requested, she was willing to step in as CEO.