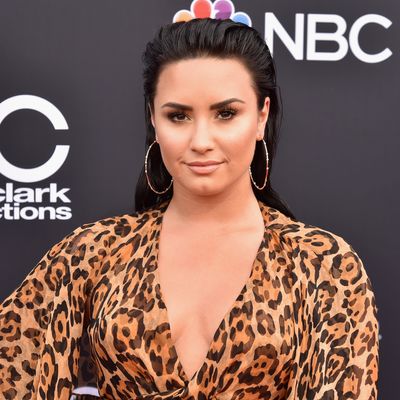 Demi Lovato.
Photo: Jeff Kravitz/FilmMagic
Demi Lovato's mother, Dianna De La Garza, said that Lovato has been sober for 90 days on Maria Menunos's Sirius XM show on Sunday morning, according to the Hollywood Reporter. Lovato entered rehab on July 24, after suffering from an apparent overdose. She was hospitalized after being given Narcan, and she experienced "severe complications" during her hospitalization. It was expected that she would be in rehab for several months.
"She has 90 days," De La Garza said. "I couldn't be more thankful or more proud of her because addiction being a disease, it's work. It's very hard. It's not easy, and there are no shortcuts."
De La Garza said that she found about Lovato's overdose when people started texting her with apologies. "The one text message that clued me in on what was going on said, 'I just saw on TMZ and I'm so sorry,' " De La Garza said. Lovato's assistant was the one to tell her that she was hospitalized.
"Before I could get to TMZ, I got the phone call from her assistant and she said, 'We're at the hospital.' So then I knew, okay, she's not gone," she recalled. "She's here. And I said, 'What's going on?' And the words that I heard are just a nightmare for any parent: 'Demi overdosed.' "
Lovato told fans that she needed to time recover in a statement posted to her Instagram immediately following her hospitalization. "I now need time to focus on my sobriety and road to recovery," she wrote. "The love you all have shown me will never be forgotten and I look forward to the day where I can say I came out of this on the other side."