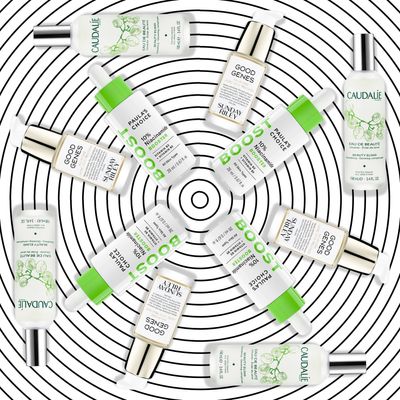 Photo: Courtesy of the Retailer
Dermstore has not been disappointing with their sales lately, and somehow there's yet another good one. This time it's the semiannual Friends and Family sale, which means 20 percent off select brands — really good ones like Peter Thomas Roth, Sunday Riley, Sachajuan, and Paula's Choice. Get stuff for your actual friends and family, get stuff for yourself because you consider Dermstore your friends and family, but either way, you have from now until October 12 to enter the code FRIEND at checkout to get the discount. Here are nine products the editors at the Cut are eyeing to get you started.
Hayley Schueneman, Beauty Writer
This is the skin-care equivalent of signing up for that class at the gym called Power Blast Deluxe Ab WERQ-Out: The name alone promises exciting results. And I can tell you that it lives up to the promise. It contains a super-concentrated dose of hyaluronic acid, does indeed feel like a cloud on the skin, and makes your face feel extra soft.
This natural eye cream is incredibly light, absorbs quickly, and smells fantastic — not necessarily just like coffee, but definitely like something in the coffee-chocolate family. It converted this eye cream skeptic into a believer. My eye skin definitely felt smoother and more moisturized.
"Gommage" just means "scrub" in French, but it sounds fancier this way. This is an exfoliating mask that's gentle and won't rub your skin raw. It uses daisy extract (fancy) to supposedly help fade discoloration, as well as jojoba beads to exfoliate dead skin cells.
Erica Smith, Beauty Writer
Prepping and protecting hair usually feels like a chore, but this spray is so lightweight, good-smelling, and good-looking that it honestly makes me look forward to detangling my hair.
The concentrated blend of pure oils in this pretty vial is as magical as it looks. I massage a few drops into my face at the first sign of any skin issue (dryness, dullness, mysterious red area, a budding pimple), don't ask any questions, and nine times out of ten, the problem is remedied the following morning.
I will find any excuse to spray this fancy French spray on my face, and luckily it isn't hard to come up with one: Use it tone your skin, prime your face for makeup, bring skin back to life after a long flight, or just because it feels so darn good.
Kathleen Hou, Beauty Director
What's a booster skin-care product? Much like a booster seat, it hoists and brings you (and your skin care) up to another level. In this case, putting a few drops of this into my moisturizer has made my skin look and feel smoother, less red, and more polished. It contains niacinamide, which is on Cosmetics Cop Paula Begoun's "Good List" for being a vitamin that makes skin look healthy and strong.
Blares alarm: Did you hear that Sunday Riley is part of the sale? Whenever someone asks me, "What does a serum do?" I direct them to this product to help them understand. It's a gentle acid for your face that gently smoothes it to polished buffness. I haven't heard any complaints about it yet, other than the smell. It has a bit of a metallic steel scent — not something you'd want as a perfume, but it isn't that terrible.
Every dermatologist in the world recommends Vitamin C. It brightens dull and dark skin spots so that your skin looks smooth and even. Most Vitamin C serums are rinky-dinky, with percentages at 5 percent or less. This one is the big time. It's a 20 percent concentration (practically professional-grade) and safe to use at home.
If you buy something through our links, New York may earn an affiliate commission.