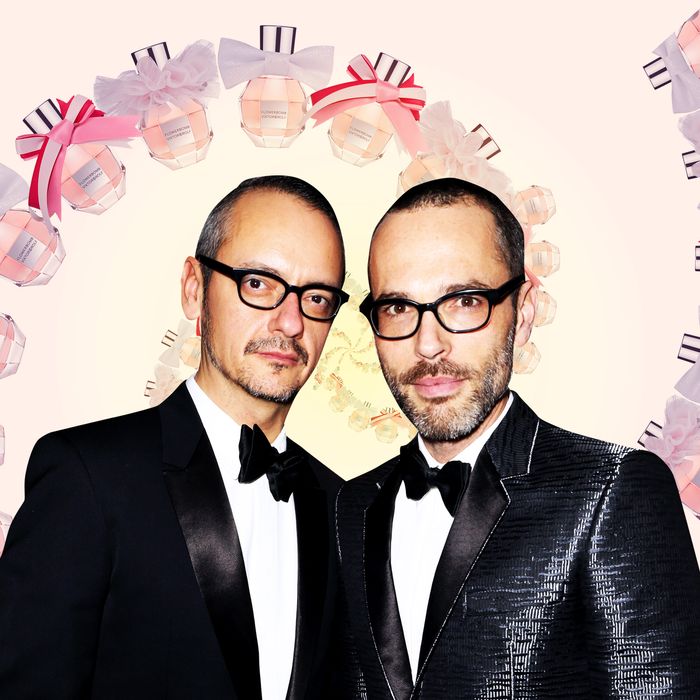 Call it the Proust effect: Memories are often triggered by smells. Scientific studies confirm that out of all the senses, smell offers the best recall. In Scent Memories, the Cut asks people about the scents they associate with different times in their lives. Next up are Dutch designers Viktor Horsting and Rolf Snoeren of fashion house Viktor & Rolf. Last month, they unveiled a new personalized e-commerce experience for their popular fragrances, which includes complimentary engravings and a wardrobe of accessories to customize cult-favorites like Flowerbomb. The Cut talked to the designers about skin, cigarette smoke, and the Parisian subway.
My first scent memory is:
Viktor Horsting: The smell of toasted sesame. It was on a kind of cookie that we used to eat. We used to live in Israel when I was 3 years old and I can remember the taste and smell really well.
Rolf Snoeren: The smell of a gas station. I'd often go with my dad.
Happiness smells like:
VH: My bed.
RS: Peonies.
Love smells like: .
VH: My dog. She died, but I still have the leash that she used to wear. I lost it, but then I found it again and I smelled it and it still smelled like her.
RS: I wanted to say the same thing — my dog. But she's still alive.
Friendship smells like:
VH: Paper. I think about us working so I think of paper and drawing.
RS: Spicebomb, the men's perfume that we did that I also wear.
Vacation smells like:
VH: Warm skin and ozone.
RS: Salt.
The worst smell is:
VH: The sweat of fear.
RS: The sewer.
Success smells like:
RS: It smells like Flowerbomb.
VH: Ditto! [Laughs]
Sunday morning smells like:
VH: Again, like my bed. And coffee.
RS: The incense of a yoga studio. Every Sunday morning I go to yoga at 10 a.m.
Monday morning smells like:
VH: Wet pavement.
RS: Steel from gym equipment.
My home smells like:
VH: A mix of seasonal flowers and wood.
RS: My dog.
A pleasant surprise smells like:
RS: Pure oxygen. I just came back from the Amazon and I had imagined it would smell very green, but it just smelled like the purest oxygen. It was beautiful.
VH: Cigarette smoke. I used to smoke a lot — I don't anymore, and I recently spent some time with someone I really like who is a smoker and I thought I would hate the smell now, but it was actually pretty nice.
My favorite food smells like:
VH: Steamed brown rice.
RS: Peanut sauce.
If I could have one smell on my hands forever, it would it be:
VH: The smell of my hand.
RS: Forever? No smell.
Our first fashion show smelled like:
VH: The Parisian subway. When we first started, we lived in Paris and it has a particular smell that everyone who has lived in Paris knows … if you don't have a car and a driver, which we didn't. We still don't [laughs].
I smell like:
VH: Soap. Anything I put on always ends up smelling like soap.
RS: Jet lag and recycled air.
If you buy something through our links, New York may earn an affiliate commission.