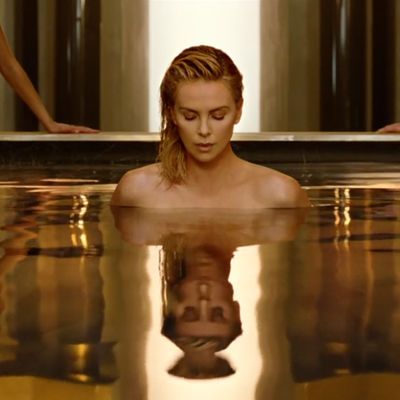 Photo: Romain Gavras for Dior.
There's a brand new Dior perfume in the universe, and that means we have been blessed with a new fragrance film. This one is already a front-runner for sweeping the Spritzys (the fake fragrance ad award show we just made up). There is a lot going on here. First, there's Charlize Theron looking like an actual goddess (surprise surprise), some Game of Thrones-esque bathhouse vibes, and a group of people watching her bathe. Everything is slightly gold-toned, shiny, wet, very luxurious, and sensual.
The original jasmine-forward J'adore scent debuted in 1999, and Charlize Theron has been the face of the fragrance since 2004. The new scent, J'adore Absolu, has changed slightly, and so has the design of the bottle: The golden "necklace" around the top of the bottle has a slight curve around the bottom edge now, where older versions of the perfume showcase a straight edge.
The best part of the film is when it cuts dramatically from Theron slowly rising up out of her bathing platform to walking in formation with her girl squad. Indeed, it looks like Theron took a long bath after Mad Max: Fury Road and emerged newly cleansed and ready to smell like Dior perfume.
Check out the video below and watch Charlize's seductive new-age baptism for yourself:
Photo: Charles Helleu/Courtesy of Dior