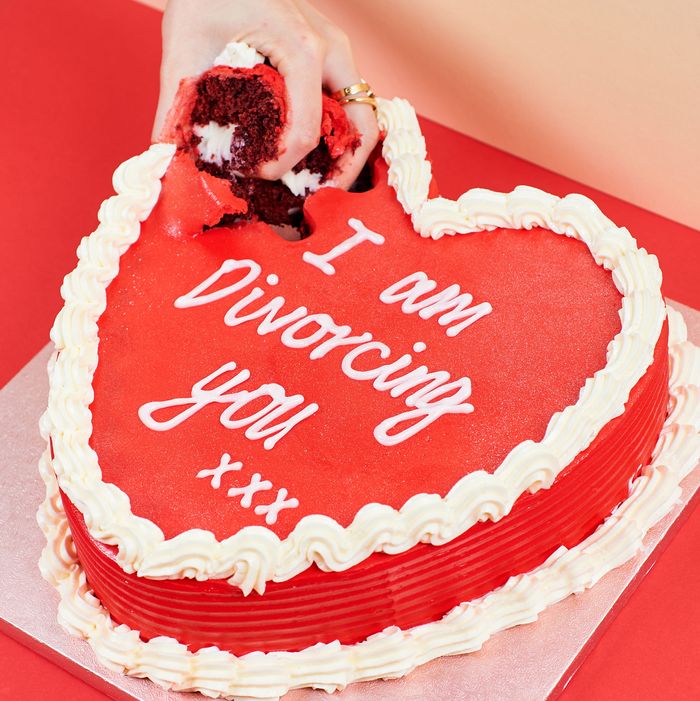 Photo: Justine Trickett/Courtesy of Chin Chin Ice Cream
How do you tell your spouse you're leaving them? There's probably no good way, but there is one seemingly delicious one.
Behold: the "I Am Divorcing You" cake. After writer Monica Heisey tweeted out a photo of this "frankly iconic" dessert, I had to know more.
The cake comes from Chin Chin, a liquid nitrogen ice cream parlor and dessert shop in London run by husband-and-wife team Ahrash Akbari-Kalhur and Ny Weber. They first rolled it out in June of this year and said that it's their most popular cake, although people usually opt to go with a birthday message instead. (Lame!)
"To be candid, we needed to write something on top for a last-minute photo shoot, everyone loved it, we put in our window and to our amazement people started ordering it," Akbari-Kalhur and Weber told me in an email, when asked about how the cake came to be. "It's very tongue-in-cheek and meant to be witty — we don't want to start a whole ethical debate on the rights and wrongs about divorce etiquette in the 21st century!"
But has anyone actually used it for its intended purpose? Hard to say. "One customer ordered the cake and in the comments area he put, 'That'll show her,'" they explained. "Although us Brits are a sarcastic bunch so we'd like to think it was given in jest.
The Divorce Cake retails for £75 (or, $96.04). If you've told someone you're divorcing them with this cake, please get in touch in the comments. Also, wow.