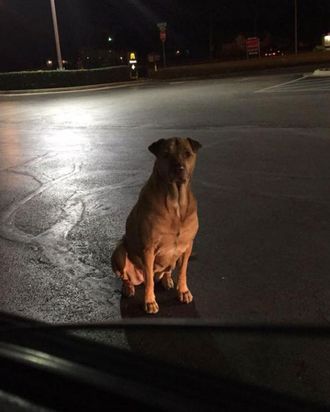 The canine hamburglar.
Photo: Betsy Reyes/Facebook
Scorpio season is a time when the secrets that have plagued us all year finally get released. No one is immune from the power of Scorpio season: not you, not me, and not this particularly sneaky dog that has been sitting outside McDonald's and pretending to be a stray in order to get free hamburgers.
Princess is her name, and scamming is her game. Her nefarious tactics went viral after her owner, Betsy Reyes, posted a photo of her dog on Facebook with a pretty incriminating caption:
"If you see my dog @ the McDonald's on shields, quit feeding her fat ass bc she don't know how to act & be leaving the house all the time to go walking to McDonald's at night. She's not even a stray dog. She's just a gold diggin ass bitch that be acting like she's a stray so people will feel bad for her & feed her burgers"
Reyes has the receipts to prove it, too. She recorded a couple follow-up videos. In one, you can see Princess sitting patiently outside a parked car looking up at the driver, who eventually throws a handful of food out the window for Princess to enjoy. In the other video, Princess jumps up on Reyes' car, acknowledging her for a moment before going out to scam her next target.
As any scammer knows, low-visibility is key to success. Now that Princess has been outed, she might need to rethink her approach. Maybe she needs to try out a disguise, lay low for a few weeks, or find a Burger King or something. Princess may not be a stray, but she is a straight-up scamming icon and for that, we salute her.