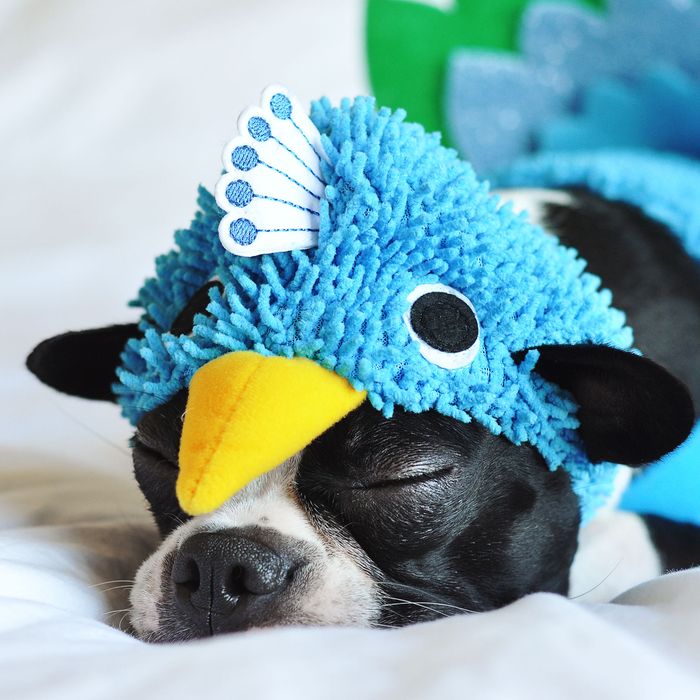 Sleepy.
Photo: Juliana Vilas Boas/Getty Images/iStockphoto
Putting unnecessary clothing on your dog is rude. Speaking generally, they dislike it because they are nonhuman. Speaking specifically, my dog is more afraid of clothing than he is of wind (he's afraid of wind). But unfortunately for dogs, humans are imperfect and sometimes we have to bother our beloved little canine friends with affection, like when we give them a lot of little kissies in their sweet little nose, and like when we dress them up for Halloween as a smaller-than-average lion or a larger-than-average hot dog.
In celebration of both Halloween and how annoying we are to our dogs, here are some sweet dogs dressed as other things. I love them.
"This is my dog, Peter. He is Danny from The Shining. Redrum!" — Kelly Conaboy
"My dog Reggie will be a roast turkey. The best part is he likes the costume — it's designed more or less like a dog coat — so from now until, I dunno, May, I'm gonna have a little turkey running around my apartment." — Mia Leimkuhler
"I found the perfect costume for Archie's comically long wormlike body: Catdog. Pls enjoy!" — Veronica de Souza
"This is Kip, we live in the Financial District. This was the Seaport Paw's Halloween Parade last year where he won first place!" — Kelly F.
"This is my dog, Jonathan. He is named after the inspiring Queer Eye member. He is dressed as a rainbow unicorn which I hope his namesake would approve of." — Alyssa Jank
"This is Kitty Beyoncé Jolie (formerly Jolie-Pitt) dressed as a ram to match her Aries personality." — Arlene Fletcher
"Martha is obsessed with the Despicable Me franchise and begged me to get her this costume." — Colin Drohan
"Here is a picture of our cat in a medium-sized dog costume. He is very big and therefore is going as a walrus. Our dog, seen trying to get under the cat's costume, is confused as to why we have done this to her pal." — Scott Rogers
"River is a red heeler but he is also kinda orange so a pumpkin seemed like a natural fit." — Tyler Watamanuk
"This is my dog Catherine, dressed as the Pope. She hates the costume and can wriggle out of it, but the six seconds she was in it were the best six seconds of my life." — Brian Feldman
"Felix is going as the Easter Bunny." — David Andrew Frey
"This is Fritz as a dog aviator in 2016. We made an executive decision to stop dressing him up since then because (a) he's technically a middle-aged man now and we don't want to subject him to the indignity and (b) his face in this photo." — Gabriella Paiella
"My mom is dressing her dogs up as Frida Khalo and her monkey." — Zoe Chodosh
"Simple but effective." — @shoshochristine
"A perfectly seasoned candy corn." — @Alexia314
"This costume perfectly represents Oliver's personality and role in our home. As you can see from this photo, power suits him, and he knows that I am nothing more than his humble servant, ready to kiss his hand and grant his every wish. He might never take it off." — Tess Ramirez
"Here is my Kofi, in a cape (he hates it). This was from last year, his final Halloween." — Patrick Redford
"This is my puppy, Stella." — Khristine Dompor
"This is my family's dog, Pepper. She's a mini dachshund, she's SIXTEEN, and she's a brat. But she loves Halloween!!!!!!" — Hayley Schueneman
"This is Baby. She is Tony Soprano." — Leah Finnegan