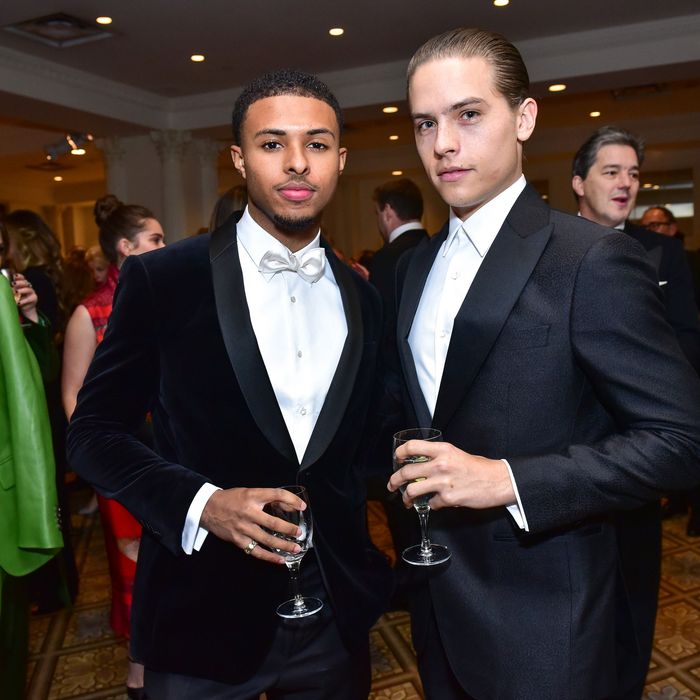 Diggy Simmons and Dylan Sprouse.
Photo: Sean Zanni/PMC
On Tuesday night, The Boys' Club of New York (BCNY) hosted its 70th Annual Fall Dance in partnership with Dolce & Gabbana. BCNY provides academic support, mental-health services, music and arts programs, college and career readiness, swimming lessons, and more for boys and young men ages 7–21 in New York City.
This was no Alta Moda, but in true D&G fashion the event brought together the stylish pillars of New York's philanthropic social scene like Lauren Santo Domingo, Tory Burch, Tabitha Simmons Mortimer, and Cornelia Brandolini D'Adda, plus a gaggle of millennial scions and rising stars. Dylan Sprouse, twin brother of Cole Sprouse, mingled with Diggy Simmons, son of Joseph "Rev. Run" Simmons, who is best known for being a member of Run DMC (and of tweeting in bathtubs), as well as model Clara McGregor, daughter of Ewan McGregor. And actresses Emily Robinson, Emily Meade, and Larsen Thompson, none of whom are above the age of 30, all looked sophisticated in brands like D&G and Ferragamo.
Based on the guest list alone, one would hope that these young New York philanthropists took notes from the more seasoned gala-goers in the audience. The event's proceeds will support BCNY's comprehensive programming. As a millennial might say, that's pretty cool.