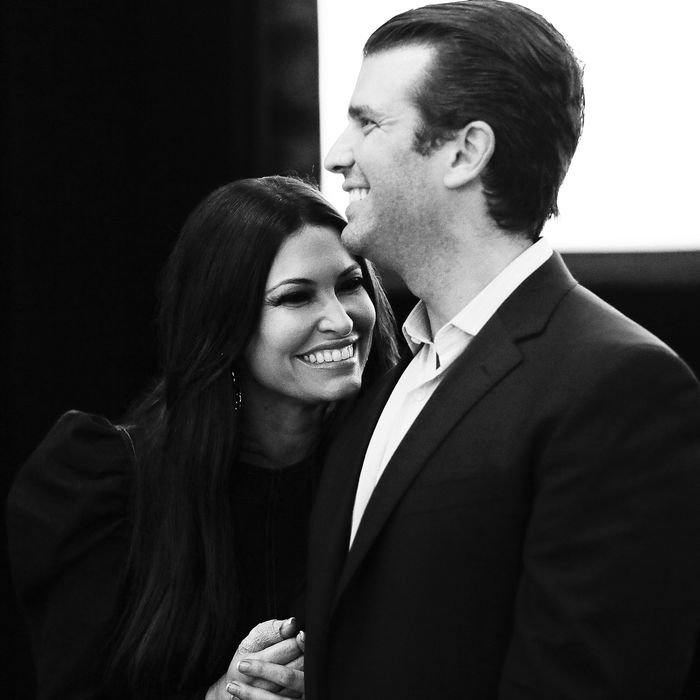 The happy, slimy couple.
Photo: Bob Levey/Getty Images for Left/Right TV
Donald Trump Jr., the First Boy who sent racy, incoherent messages while married to his former wife and is accused of helping his father's campaign collude with Russia, seems like a great match for Kimberly Guilfoyle — the former Fox News host who allegedly showed her colleagues dick pics and emotionally abused them. The two have bonded over fishing, hunting, and making America great again, campaigning together around the country in the effort to sway voters right. The couple is going so strong that they've now even blended their names, in the tradition of midriff-bearing paparazzi targets of the early aughts, creating some amorphous word jumble that sounds like it should be whispered from the hot-breathed tongue of an incompetent demon: Donberly.
"Hashtag Donberly," declared Guilfoyle, who now works for the pro-Trump super PAC America First Policies, while on the campaign trail. She spoke in front of a crowd an event for Turning Point USA, an organization for pro-Trump teenagers.
"He's savage, isn't he?" she said, adding that she calls Don Jr. "Junior Mints" — a pet name nobody really wanted to know about.
"Can someone come up here and take the mic for a few minutes? I don't like following Kimberly," Don Jr. told a crowd at another campaign event. "She does not make this easy."
Guilfoyle has been swift to adopt the rhetoric of the Trump campaign, inventing a creative nickname to bully Democratic Senator Joe Manchin, "Swampy Joe."
"We are on path to making America great again," Trump Jr. told Breitbart, for an article about the couple's joint campaigning in Ohio. "From the Supreme Court to tax cuts and record-breaking job creation. We can't let radical liberals stop our momentum or reverse the current course. Keeping Ohio in GOP hands is vital in making America great again!"
Ah, nothing like spending time with your partner and rolling back the rights of American citizens. Take a peek at some highlights from the couple's romantic tour de MAGA.