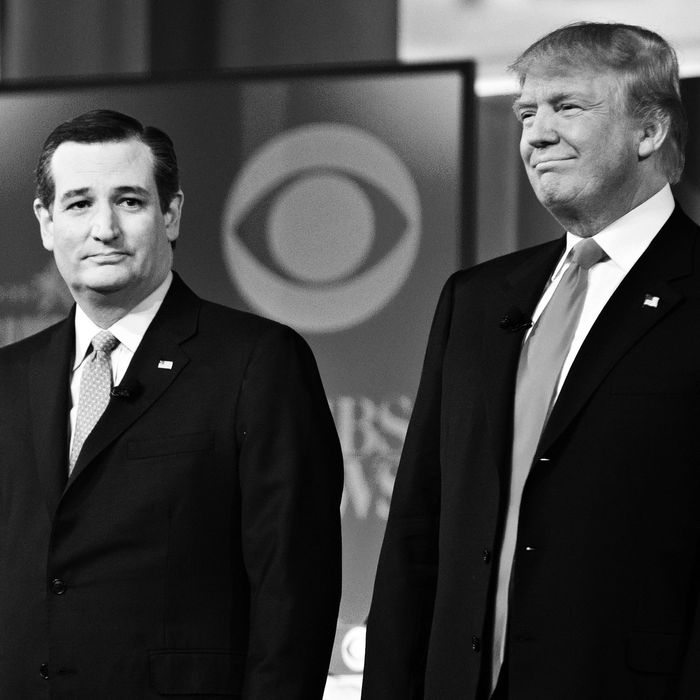 Ted Cruz and Donald Trump.
Photo: Daniel Acker/Bloomberg via Getty Images
Senator Ted Cruz was famously berated by President Trump throughout the 2016 presidential primaries — he once threatened to "spill the beans" on Cruz's wife, said that Cruz was "wacko," asserted that his Cruz's father was involved in a plot to assassinate President John F. Kennedy, and commonly referred to him as "Lyin' Ted." But Trump has christened the Texas senator with a new descriptor. He is no longer lying, he is beautiful.
During a press conference on the White House lawn on Monday, ABC News reporter Jonathan Karl asked the President if Ted Cruz was still "lyin'." Trump, eager to win as many Republican senate seats as possible, said he's given Cruz a new nickname.
"He's not 'Lyin' Ted anymore. He's beautiful Ted," Trump said. He added that he has "no regrets" about comments he made during the 2016 primaries. Trump will campaign for Cruz — who he also calls "Texas Ted" now — in Houston, Texas, on Monday night. "I like him a lot," Trump added.
Beautiful Ted will face Sweaty Beto in the midterm elections on November 6.