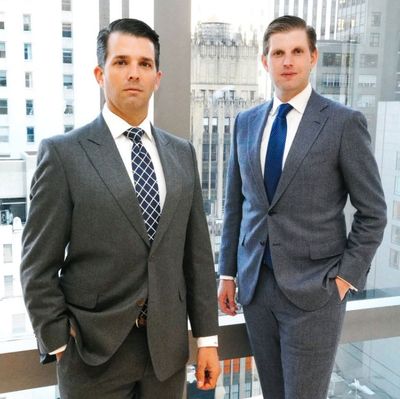 Boss.
Photo: @Trump/Twitter
On Tuesday, the Trump Organization honored the fake holiday #NationalBossDay by tweeting a picture of First Boy Donald Trump Jr., and also his brother, Eric.
"Happy #NationalBossDay to our boys" the tweet read.
How do we know these boys are bosses? Well:
• They're wearing suits.
• Their suits are gray — a very sober, senior management type of color.
• They're near a window. A big one. The kind you could stand in front of in your gray suit, cross your arms and say, "Business…"
• They appear to be in New York City, home of the New York Stock Exchange, and SantaCon — two Boss Boy favorites.
• They each have one hand resting casually and confidently in their correct and corresponding pants pocket (neither of them tried to put their right hand in their left pocket or anything like that). Very smooth, very professional.
• Their hair is gelled and styled in a way that suggests they watched Patrick Bateman in the Boss Boy film American Psycho and thought, "Haha, splendid."
• Their other hands are empty, ready at any moment to sign documents or contracts, or to accept a firm, brief handshake from their absent father.
• Their chests are puffed out so as to intimidate other, lesser Boss Boys.
• Don Jr.'s facial expression looks serious, and a little confrontational, like he's getting ready to negotiate, or lift. Eric's facial expression looks like he is also in the picture.
Happy belated #NationalBossDay to these two boys.