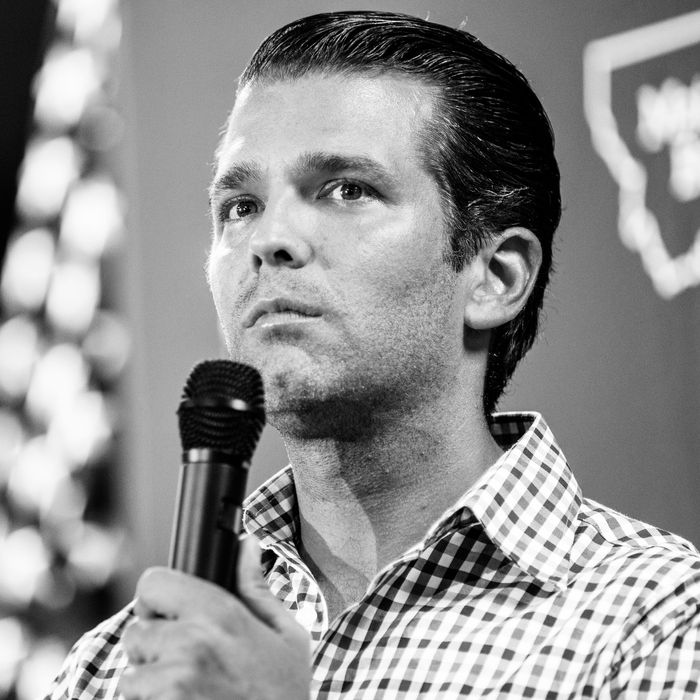 Donald Trump Jr.
Photo: William Campbell/Corbis via Getty Images
In his first joint interview with his girlfriend, Kimberly Guilfoyle, political scholar and First Boy Donald Trump Jr. spoke to DailyMailTV about Brett Kavanaugh's confirmation hearings, and said that the current #MeToo era makes him nervous … for his sons.
Emerging from the depths of a barn in Montana, where he and Guilfoyle are campaigning for GOP Senate candidate Matt Rosendale, Trump said, "I've got boys, and I've got girls. And when I see what's going on right now, it's scary."
When asked who he was scared for, his three sons or his two daughters, Trump replied, "Right now, I'd say my sons."
"For the people who are real victims of these things, when it is so obviously political in cases like this, it really diminishes the real claims," he said. (Note: research finds that false reporting only accounts for between 2 and 10 percent of sexual-assault allegations.)
It is not surprising that Trump's sympathy would lie with the accused. Over 20 women have accused his father of sexual assault, and his girlfriend, Guilfoyle, left her job as a host at Fox News amid allegations of inappropriate behavior and sexual misconduct, including "showing personal photographs of male genitalia to colleagues (and identifying whose genitals they were)."
"People need to be careful to understand the politics involved as well," Guilfoyle added, "And what motivations people may have."
Trump and Guilfoyle's interview will air Monday and Tuesday.